Return to Headlines
VIDEO | Leaders Thrive at Liberty Elementary School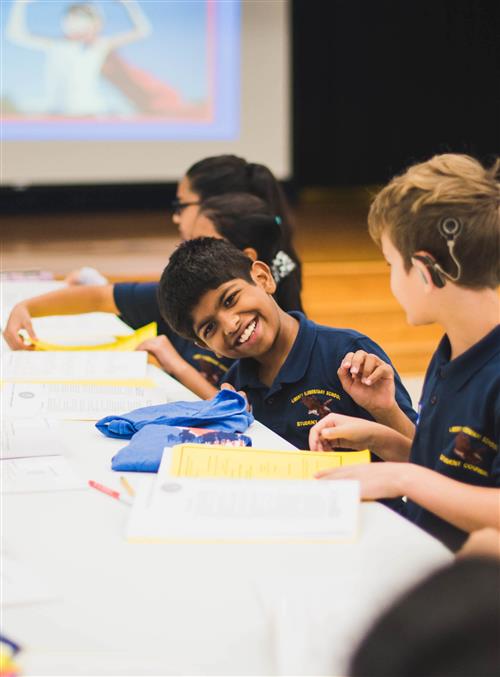 Liberty Elementary School's (Liberty) cafeteria was filled with both familiar and new faces Sept. 27 as more than 120 students from nine Lewisville ISD schools excitedly gathered for the Texas Elementary Principals and Supervisor Association (TEPSA) Student Leadership Workshop.
This workshop experience is an opportunity for student leaders and their adult advisers to strengthen their leadership characteristics within their own school groups, as well as among new friends.
"I thought it was really cool because we got to meet other students that go to different schools, but we were all student council members," Liberty Student Council President Jacie Ellig said.
Liberty welcomed peers from Donald, Garden Ridge, Forest Vista, Hicks, McAuliffe, Old Settlers, Parkway and Valley Ridge elementary schools.
"Growing student leaders is an important aspect of being a well-rounded student, so offering the opportunity of this student leadership workshop is an easy decision," said Liberty principal Tim Greenwell. "TEPSA provides a great mixture of leadership skills learning, interactive and fun songs and meaningful leadership toolbox information for both students and advisers."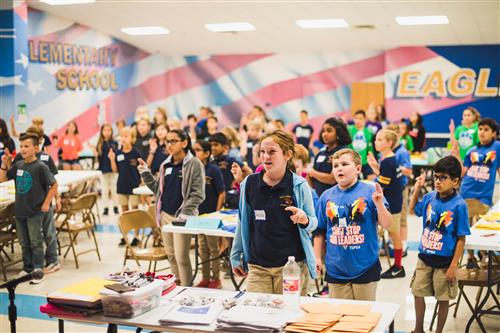 While advisers get to participate in the singing and dancing too, they eventually have their own breakout session where they learn more about their crucial role in growing student leaders at their campus.
The students are busy with nonstop team-building activities, self-reflection and challenges that get them out of their comfort zones. Each moment throughout the day is designed to help teach students the leadership skills they can use both at their school and throughout their lives.
"Being a leader means being willing to put other people's needs before your own needs," Ellig said. "You can't make promises that you won't keep. Even though it may be hard to be a leader, you shouldn't quit."
Share the photo album or the video below with your friends and family on Facebook or learn more about student council workshops on the TEPSA website.
---
Liberty Elementary School is a Flower Mound, Texas elementary school in the Lewisville Independent School District. Follow Liberty on Facebook and Twitter to see more student experiences throughout the school year or visit LISD.net for more information about our district.