Return to Headlines
Lewisville High School Holds Honorary Diploma Ceremony
Feb. 7, 2017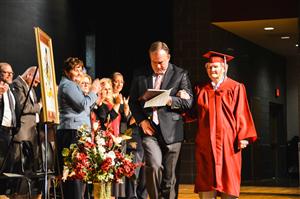 Former Lewisville High School (LHS) student Frankie Lester Sprabary waited more than 70 years for this moment. The 88-year-old had always dreamed of graduating from high school, but a car accident, which left her bedridden, prevented her from receiving her diploma in the spring of 1946. After hearing her story, Lewisville ISD (LISD) and LHS helped make Sprabary's dreams a reality.
An honorary diploma ceremony was held for Sprabary Monday, Feb. 6 in a packed Leo C. Stuver Auditorium at LHS. The ceremony for the former student featured performances by the wind symphony and choir as well as a commencement address from LISD Superintendent Dr. Kevin Rogers. Sprabary was presented an honorary diploma, and the ceremony concluded with the school song and a reception in the foyer.
"I have dreamed about this day," Sprabary said, "and it's finally here."
CBS DFW and WFAA featured Sprabary and her story. Both features are linked below.
Lewisville ISD Facebook page.