Return to Headlines
Lewisville High School Impresses with Fall Community Blood Drive
Student Council partners with Carter BloodCare for highest donation total since 2012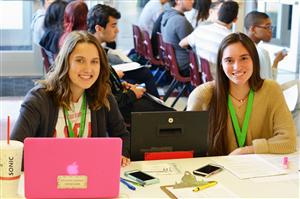 The Lewisville High School Student Council teamed up with Carter BloodCare for a highly-successful fall community blood drive. The all-day event on Nov. 10 in the Leo C. Stuver Auditorium foyer resulted in 258 donors seen – toppling the goal of 162 – and 218 pints of blood collected.
The pint total – equaling 654 lives saved – was the highest at the event since 2012 despite Zika virus consent forms being required.
"Lewisville High School is one of only a few of our high schools in Texas that exceeded their projection this school year," Carter BloodCare Consultant Susan Holt said. "They are amazing."
Added LHS Student Body Community Connections Officer Tori King: "It is exciting to see so many students and community members who were willing to donate. I'm so proud of the outcome."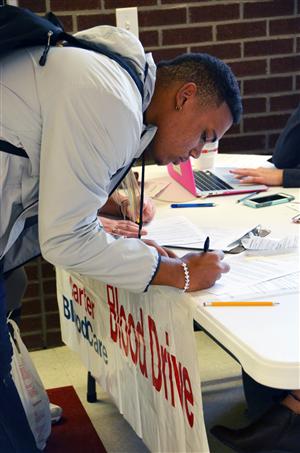 Since 2010, LHS has collected 1,378 pints at its fall event. Including their annual spring blood drive, that total jumps to nearly 3,000.
King and Junior Class Community Connections Officer Claire Marrone spent nearly a month organizing the event. The duo worked the entire day of the drive along with numerous other LHS Student Council volunteers, including Natalee Baker; Nicole Haskins; Kalina Kaftajian; Alexis McKinney; Juan Martinez; Chigozie Onwu; Faith Patton; and Bailey Payne.
"Hosting these blood drives is one of the most important things we get to do," said King, who is a senior. "They allow students the opportunity to make a difference and really save someone's life. Knowing that makes all the work worth it."
Carter BloodCare, which had approximately 40 representatives on site, always enjoys partnering with the LHS Student Council.
"We appreciate the time LHS Student Council gives to help the patients that will receive life from their acts of kindness," Holt said. "They are always so organized and do a great job of rallying everyone."
The LHS Student Council's spring blood drive is scheduled for April with the date to-be determined.
For more information on Carter BloodCare, click here.