Return to Headlines
LISD Focus on the Future Set for Another Starfish Comic and Gaming Expo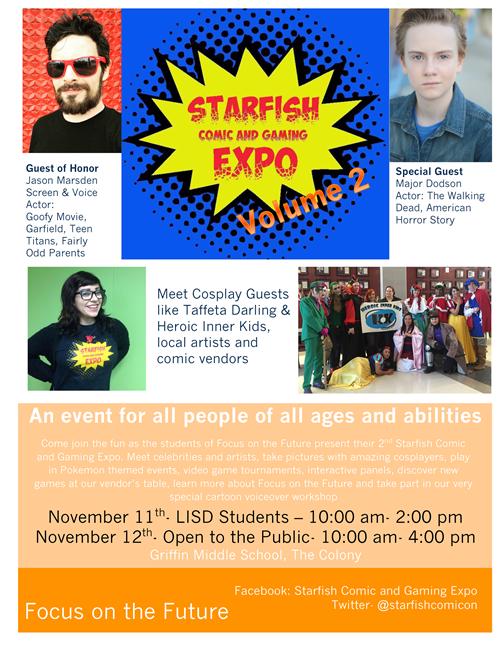 Lewisville ISD Focus on the Future's second annual Starfish Comic and Gaming Expo is set for Nov. 11-12 at Griffin Middle School in The Colony. Session I will be on Friday, Nov. 11 from 10 a.m. - 2 p.m. and is for LISD students only, while Session II is set for Saturday, Nov. 12 from 10 a.m. - 4 p.m. and open to the public.
"The biggest compliment from last year's show was from people who could not tell the difference between the special education community and general education community," Focus on the Future teacher and event organizer Walter Jimenez said. "The second Starfish Comic and Gaming Expo is a continuation of that ideal while expanding the fandoms."
The guest of honor is Jason Mardsen, screen and voice actor whose credits include Goofy Movie, Garfield, Teen Titans and Fairly Odd Parents. Also scheduled to appear is actor Major Dodson (The Walking Dead and American Horror Story), Taffeta Darling (local Cosplay actor), David Doub (Dusk Comics creator), Jilani (artist), Terry Parr and Halo Sama (ShoNuff Studio) and Heroic Inner Kids.
In addition to meeting and being photographed with guests, attendees can play in Pokémon-themed games, video game tournaments, be involved in interactive panels, discover new games and learn more about Focus on the Future's cartoon voiceover workshop. Every LISD student will have a chance to take part in a costume contest, regardless of ability.
"Everyone should attend this event because it is aimed for the entire community to have a great time and hopefully make new friends and expand hobbies," Jimenez said. "As the students have been saying since the beginning, 'it is not an event just for those with special needs, we are just the ones hosting the party.'"
The Starfish Comic & Gaming Expo will also be the home of a live broadcast of the YouTube show, "Live from the Ranctor Pit." The 1 hour-long, Star Wars-themed talk show is hosted by Cole Houston and Eddie Medina.
Tickets are $7 for LISD students – and that is good for both days. On Saturday, parents are free with the purchase of their student's ticket, while general admission is $9.
For more information, visit Starfish Comic & Gaming Expo's official website. You can also learn more on Facebook and Twitter (@StarfishComicon). To see a photo gallery of last year's event, click here.