Return to Headlines
Garden Ridge Students Unlock the Code on Campus
November 2, 2016
Garden Ridge Elementary fourth- and fifth-graders have the opportunity to learn coding in an after-school group called the Coding Club.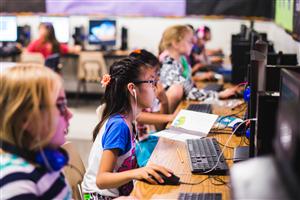 The benefits of coding extend beyond learning computer science and programming, it develops problem solving, analytical skills and critical thinking.
Garden Ridge Elementary
fourth and fifth graders have the opportunity to develop these talents in an after-school group called the Coding Club.
Garden Ridge Library Media Specialist and club sponsor Holly Earl started it after the students participated in Hour of Code, a one-hour introduction to computer science that is sponsored by Code.org as a global effort to encourage students at an early age to explore computer science.
"Our students really enjoyed the Hour of Code four years ago and we wanted to keep that enthusiasm going," Earl said. "It is our third year for the club and the students really love it."
The club has seen increased participation each year. Garden Ridge LEAP teacher Christine Rountree helps as the club sponsor as well. Earl estimated it began the first year with approximately 30 students and has grown to one of the largest groups on campus.
"Very few of our students even knew what coding was, so it was a bit smaller the first year," Earl said. "We had so many students sign up the second year, we split it into a fourth- and a fifth-grade club. This year, we had so many fourth graders sign up that we utilized a lottery system to accommodate all of the students."
In addition to web design, gaming programs and software development, coding prepares students for future careers in STEM that do not exist yet. According to the U.S. Bureau of Labor Statistics, between 2010-2020, employment in science and engineering jobs will increase by 18.7 percent compared to 14.3 percent for all other occupations. A global promoter and advocate of computer science, Code.org supports the projection and estimates 71 percent of all new jobs will be STEM related.
"There is huge need for graduates who can program," Earl said. "I am hoping the Coding Club gives my students the foundation they need to excel and help fill the need for computer scientist in the workplace."
This is the second year for Garden Ridge fifth-grader Katie Wilson to be a member. Wilson also serves as a helper in the fourth-grade coding club. She believes her time spent in the club will help her in her future endeavors.
"I enjoy Coding Club because it's fun and something to do after school," Wilson said. "It teaches you to think about things like how to make a website. I would like to own a company one day and this will be helpful if I want to build a website for it."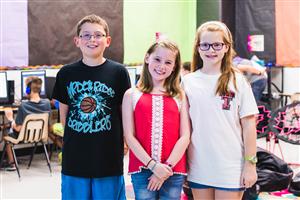 Students are given the opportunity to create and take ownership of their own ideas. Ideas that have taken them beyond the classroom to conventions for entrepreneurship.
"We had three students showcase an app they built at the Fab Conference in Fort Worth last spring," Earl said. "It was a great experience for them to discuss and see other ideas in the STEM field. My desire is that students learn logic, problem solving, creativity and build their self-confidence through exploring computer science."
Garden Ridge Principal Kelly Roden believes the club offers students an alternative avenue to highlight their learning and passion.
"As educators, were are given the opportunity to work with our students to discover their many talents," Roden said. "This club is a just one of the ways we can encourage students to grow. I am proud of the hard work these students put into it and the determination that they exhibit."