Return to Headlines
Flower Mound Chamber Awards | March 2021
STUDENT OF THE MONTH | LYNH DAM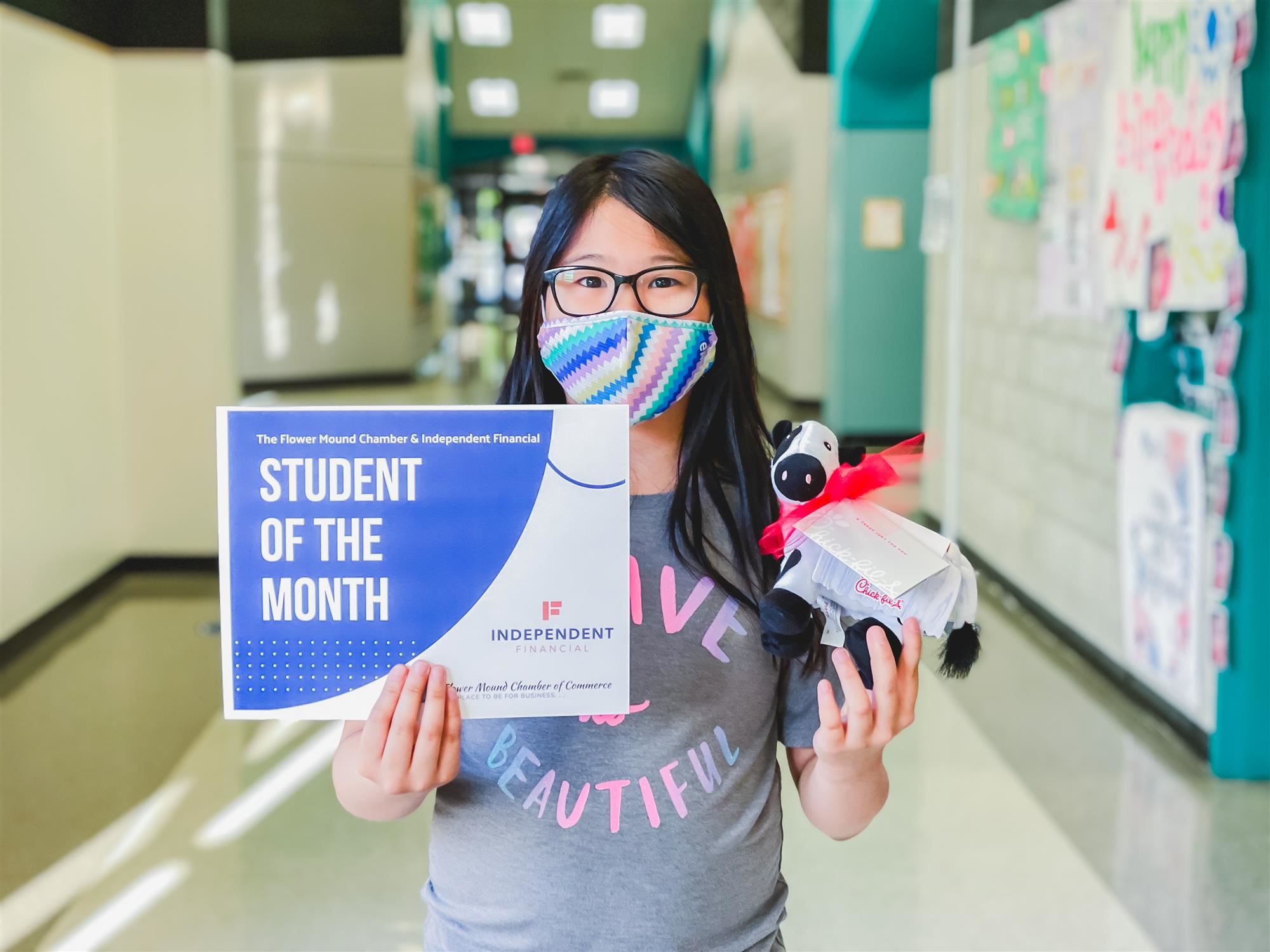 Garden Ridge Elementary 5th-Grader Lynh Dam was recognized as the Flower Mound Chamber's March 2021 Student of the Month. According to Lynh's teachers, she is an outstanding student both academically and behaviorally. Lynh sets an excellent example for all students in that each day she arrives at school with a positive attitude, a smile on her face, and ready to give one hundred percent. Her learning is important to her, and this says so much for her character. She also gets along with her peers. She has no problem working with others, keeping focus on the task as well as helping with maintaining a healthy group attitude. She has been a joy to have in all of our classes this year and deserves to be awarded with the honor of Outstanding 5th Grader for Garden Ridge Elementary.
To learn a little more about Lynh, we asked her the following questions:
What are your hobbies and/or do you like to do in your free time?
In my free time, I like to draw/color, spend time with friends and family, and swimming.

What is your favorite subject in school and why?
My favorite subject in school is science. I love science because I get to do fun experiments and learn lots of things.

What do you love most about your school and why?
I love so many things about school. First, I love that everyone is kind and works together. There are no bullies here and everyone supports each other.

What are you looking forward to next year in middle school?
Next year, I'm looking forward to making new friends and being in a new school. I'm excited about having my own locker and seeing students in different classes from a variety of schools.

Who do you look up to and why?
I look up to my sister because she is very smart and has lots of friends. She is also extremely talented and plays the violin.


TEACHER OF THE MONTH | MELANIE STETZER


Garden Ridge Elementary Functional Life Skills Teacher Melanie Stetzer was recognized as the Flower Mound Chamber March 2021 Teacher of the Month. According to Garden Ridge Elementary administration, Ms. Stetzer was selected as the school's 2020-2021 teacher of the year. She is consistently recognized for her commitment to her students as well as her passion for her craft. Ms. Stetzer goes above and beyond to ensure that her students continue to be engaged and grow in their skills. She partners with families in order to provide the best learning environment that will help her students thrive. Ms. Stetzer is a true team player, is always willing to lend a helping hand, and continues to collaborate with staff to help support all students throughout the campus. Garden Ridge is very lucky to have such a wonderful teacher!
SCHOOL OF THE MONTH | GARDEN RIDGE ELEMENTARY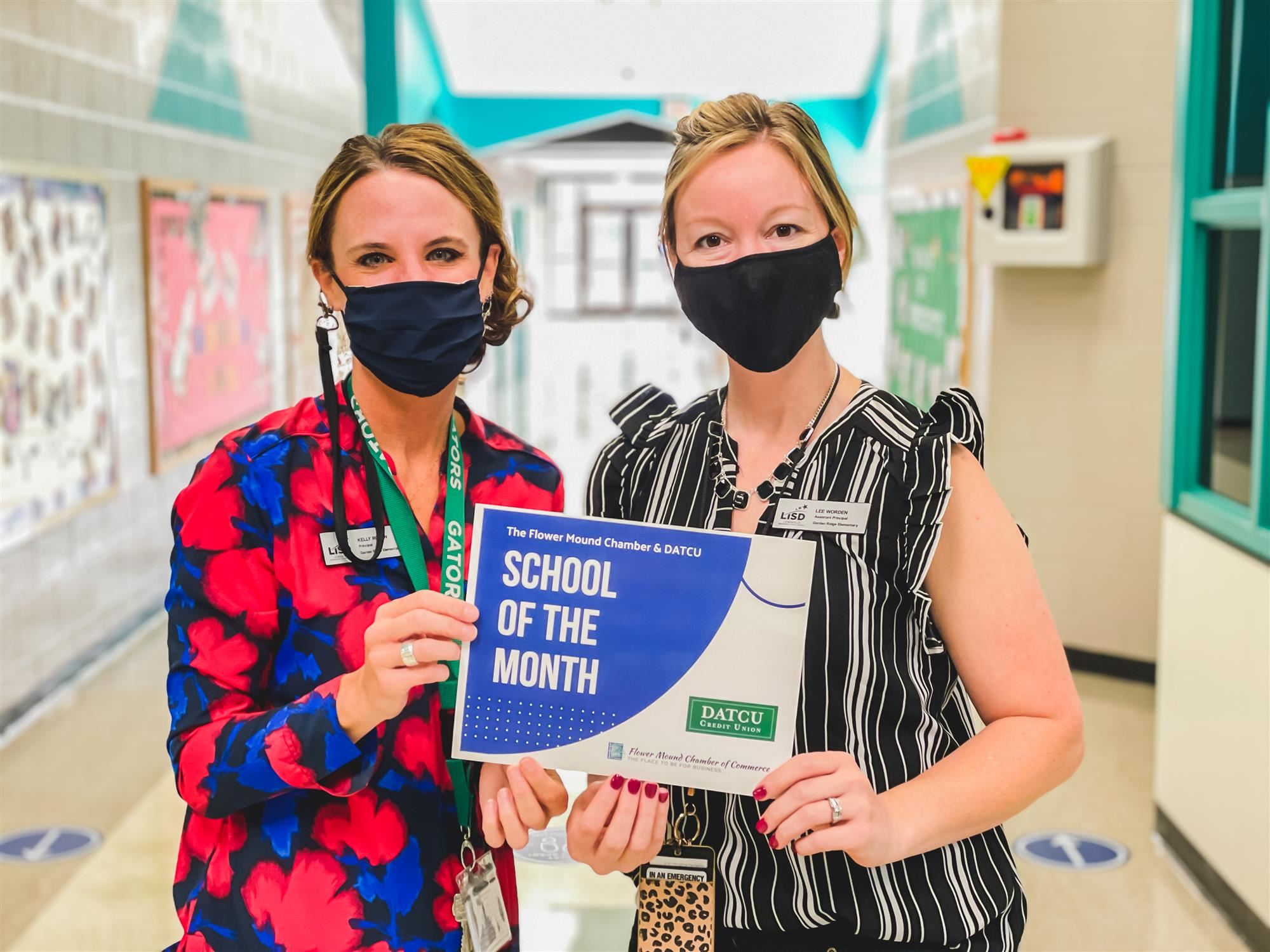 Garden Ridge Elementary was recognized as the Flower Mound Chamber March 2021 School of the Month. Garden Ridge is a school that prides itself on developing 21st-century learners. Students and staff come to school each morning excited about what the day will bring. There are a variety of enrichment programs that continue to help develop students in all areas of their lives. Staff works alongside our amazing families and our surrounding community to help support students in all that they do. This year, the campus has embraced new opportunities and the staff have grown alongside one another to accomplish great things. Garden Ridge works hard to develop leaders through its leadership program and learners through its instructional design. The campus has worked hard to create an environment where learning continues to be a lifelong journey that everyone embraces.
---
| | | |
| --- | --- | --- |
| March | School | Garden Ridge Elementary |
| | Teacher | Melanie Stetzer |
| | Student | Lynh Dam |
| February | School | Flower Mound 9th Grade Campus |
| | Teacher | Chimene Tingue, World Geography |
| | Student | Jordan Holt, 9th Grader |
| January | School | LISD STEM Academy at Bridlewood Elementary |
| | Teacher | Joyce Kirk, Kindergarten |
| | Student | Caden Burrows, 5th Grader |
| November | School | Forest Vista ES |
| | Teacher | Forest Vista ES Virtual Pre-K Team |
| | Student | Gracie Shaw, 5th Grader |
| October | School | Heritage ES |
| | Teacher | Kelsi Kunz, Virtual 1st-Grade Teacher |
| | Student | Jackson Sasser, 5th Grader |
| September | School | McKamy MS |
| | Teacher | Brilliance Crayton, Science Teacher |
| | Student | Mia Kline, 8th Grader |
---

Garden Ridge Elementary is a Flower Mound, Texas elementary school serving Kindergarten through 5th grade in the Lewisville Independent School District. Follow Garden Ridge on Facebook and Twitter to see more student experiences throughout the school year or visit Best Schools in Texas for more information about joining the Lewisville ISD family.