Return to Headlines
Four 2012 MHS Grads Share the Halls Once Again
As the old adage goes, there is no place like home. And for four 2012 Marcus High School graduates, home is Lewisville ISD.
Anne Rogers, Emily Mansfield, Jenna Morgan and Nicole Votolato got their start in the district when they were in Kindergarten at various elementary schools across the district. They would eventually all four find themselves at Marcus High School, where their paths crossed in different classes, activities and organizations. Three of the four would then go on to University of North Texas, where they again intersected in different ways. But the most surprising intersection of all is happening now - as all four women teach at Flower Mound Elementary School, reunited in the district that introduced them to each other so many years ago.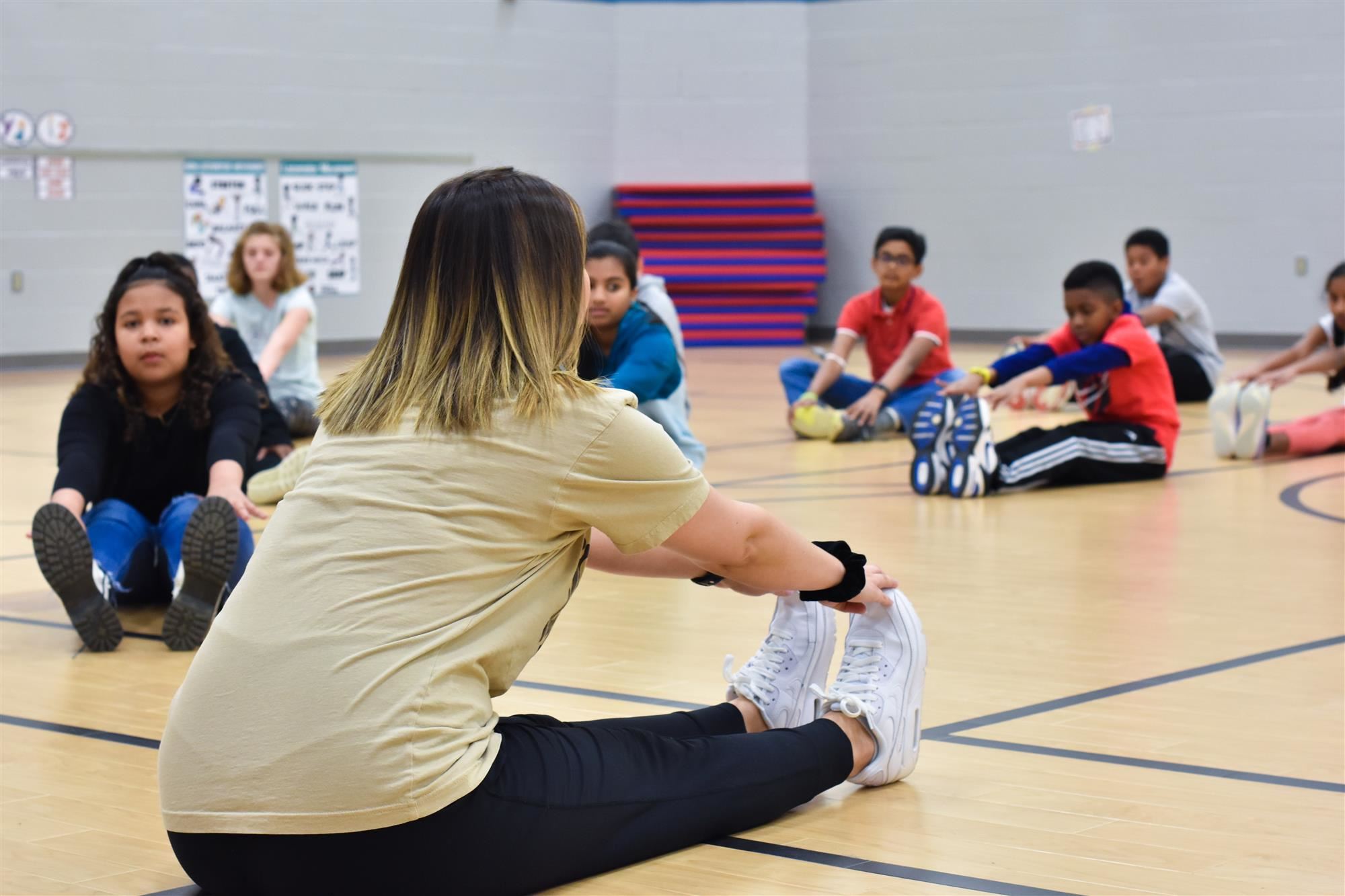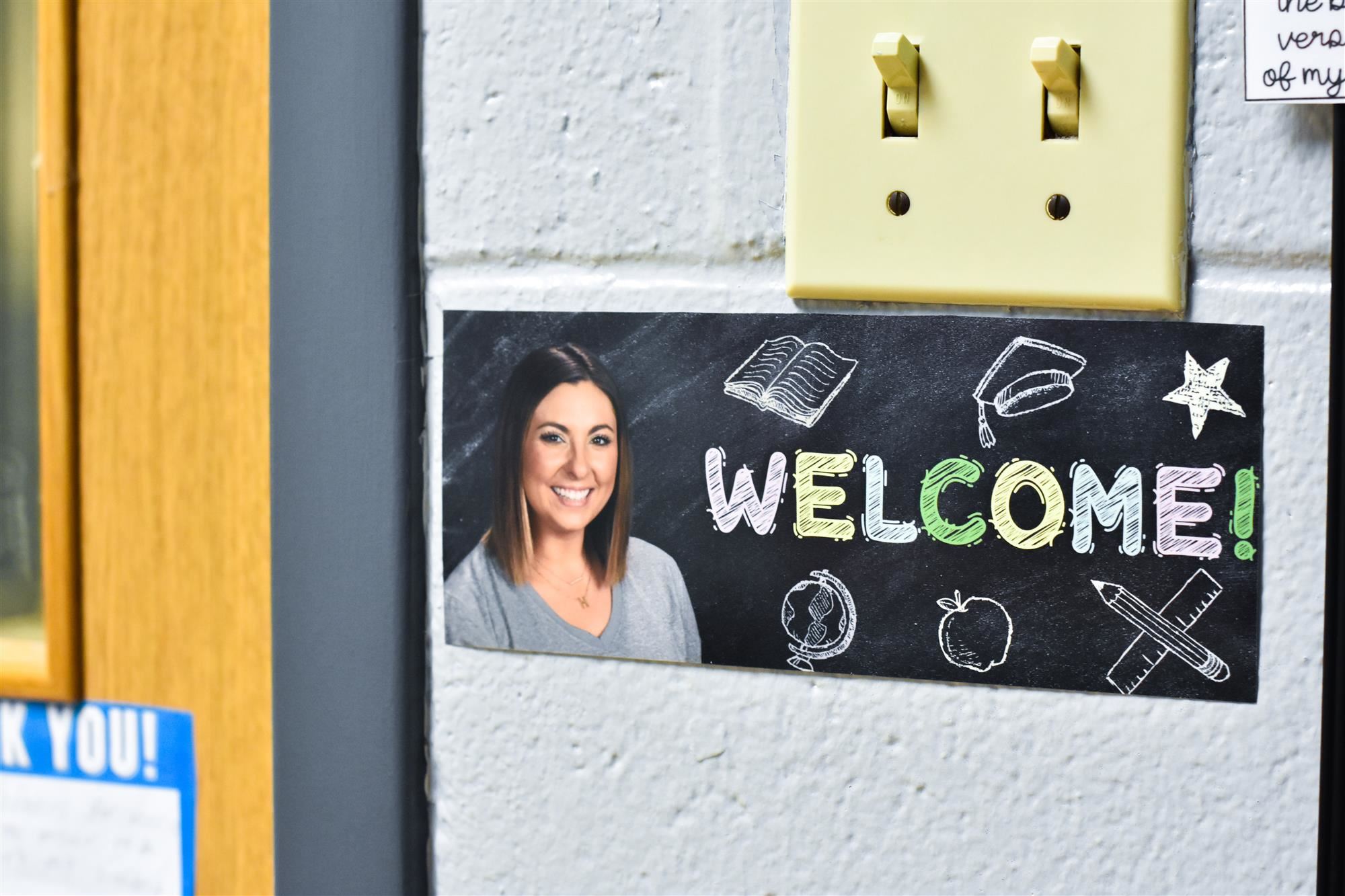 Anne Rogers, FME's 2022-23 TOY, teaches P.E.
The first to arrive at Flower Mound Elementary was Anne Rogers, who knew from a young age that education was in her future. Anne's mother, Dorrie Loughborough, was an AP Government teacher and later an assistant principal at Marcus High School before she retired in 2022. With her mother's career in mind, Anne enrolled in the Ready Set Teach program at Marcus High School, hoping to explore a career in education. "It was awesome," Rogers said of the experience. "Ready Set Teach is a two-year class, so you get to observe in the classroom and then you actually get to go and teach lessons." After graduating from UNT she student-taught at Polser Elementary and then began her first year of teaching at FME on the first grade team. Just a year later she was joined by Emily Mansfield, who she shared quite a few similarities with.
"Emily and I were actually on the Marcus Marquettes together," Anne explained. Anne and Emily both carried on their love for dance after high school, with Anne dancing at the University of North Texas and Emily becoming a Kilgore Rangerette at Kilgore College. Emily later joined Anne at the University of North Texas, and then on the first grade team at Flower Mound Elementary. "She's one of my best friends," Anne said of Emily, "so it's really cool that we get to be on the team together."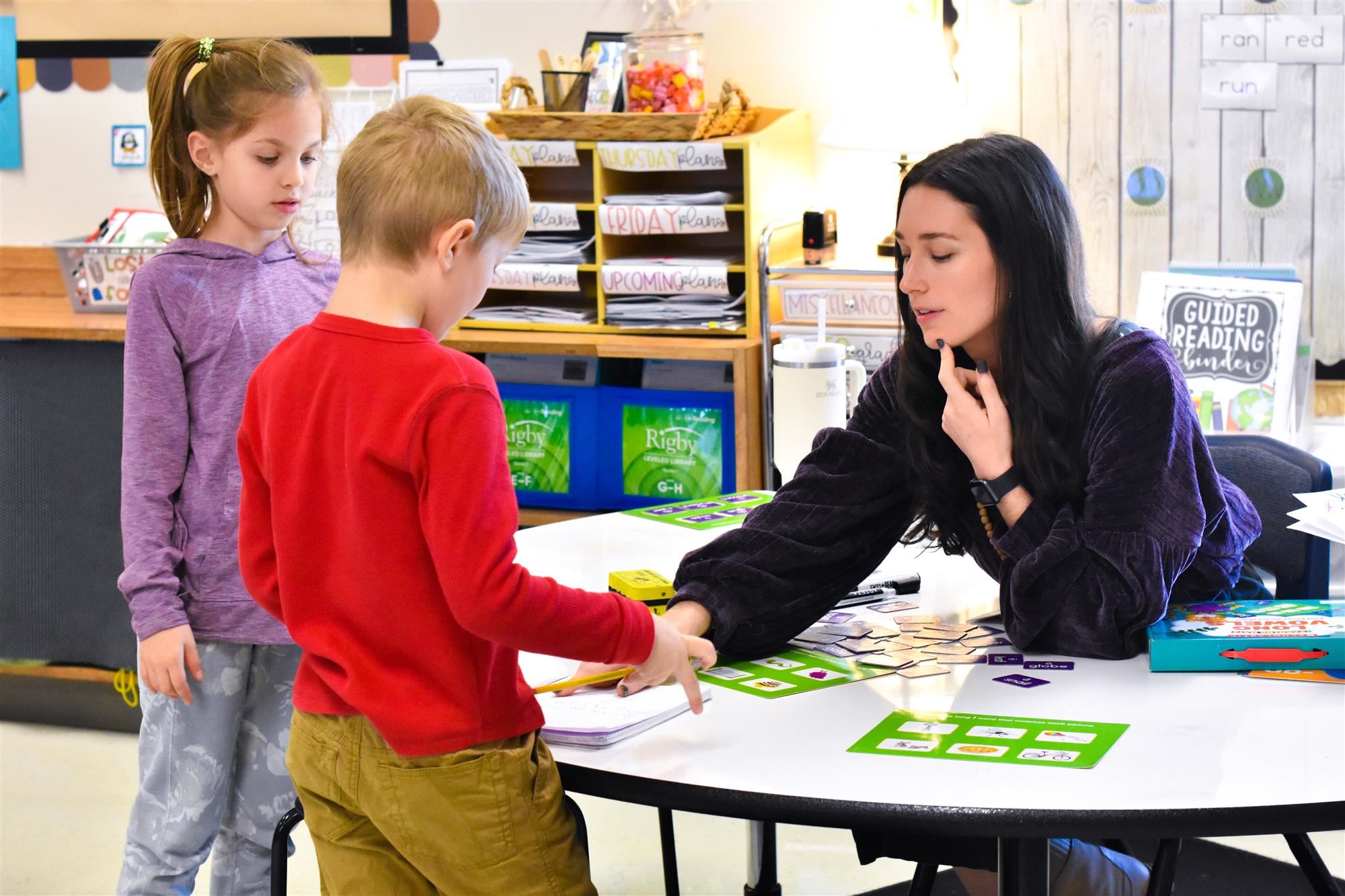 Emily Mansfield teaching students in her first grade class at FME.
Emily was a lifelong LISD student herself, attending Highland Village Elementary, Briarhill Middle School and then Marcus High School. She was also in the Ready Set Teach program, and echoed Anne's positive recollection of the experience. "It gave me a lot of hands-on experience and let me see multiple grade levels," she said. "The teacher, Ms. Watson, really took us behind-the-scenes with lesson plans and all that stuff. It also really helped me with connection making."
Teachers like Kim Watson and many others played a part in inspiring Emily to become an educator herself. "I wanted to have an impact on other kiddos like my teachers had on me," she said. "Growing up here, I was so influenced by all of the amazing teachers…I really couldn't get away!"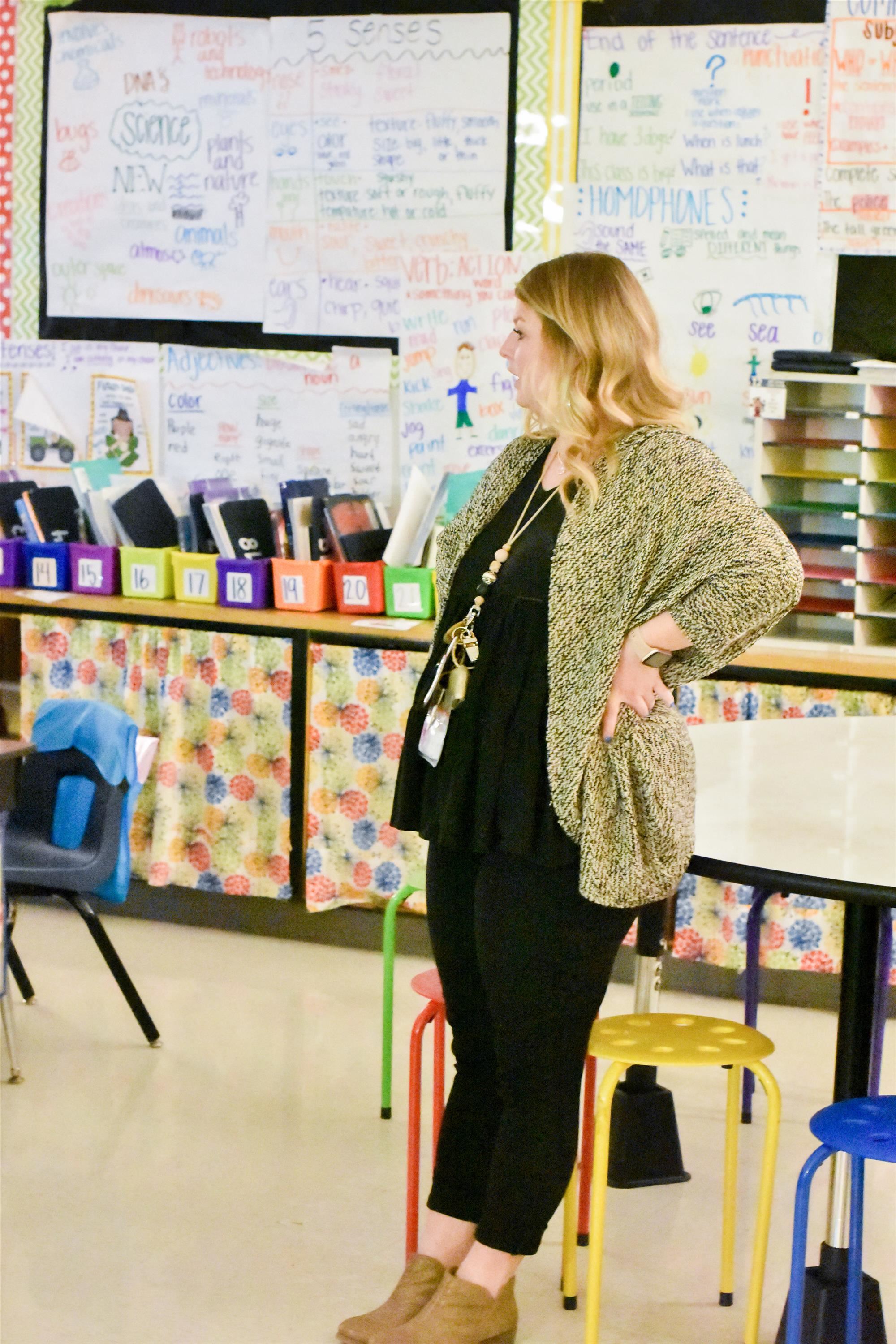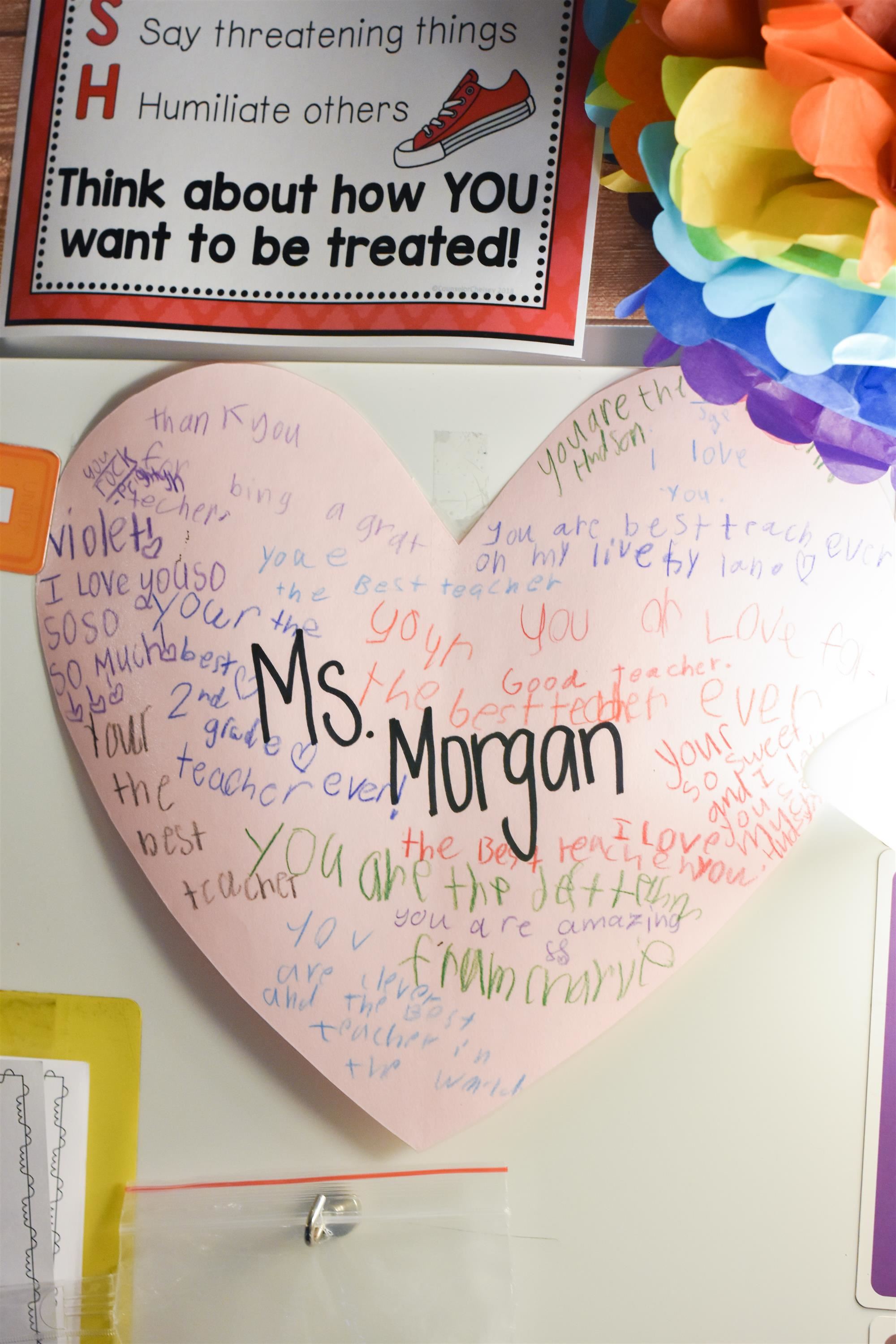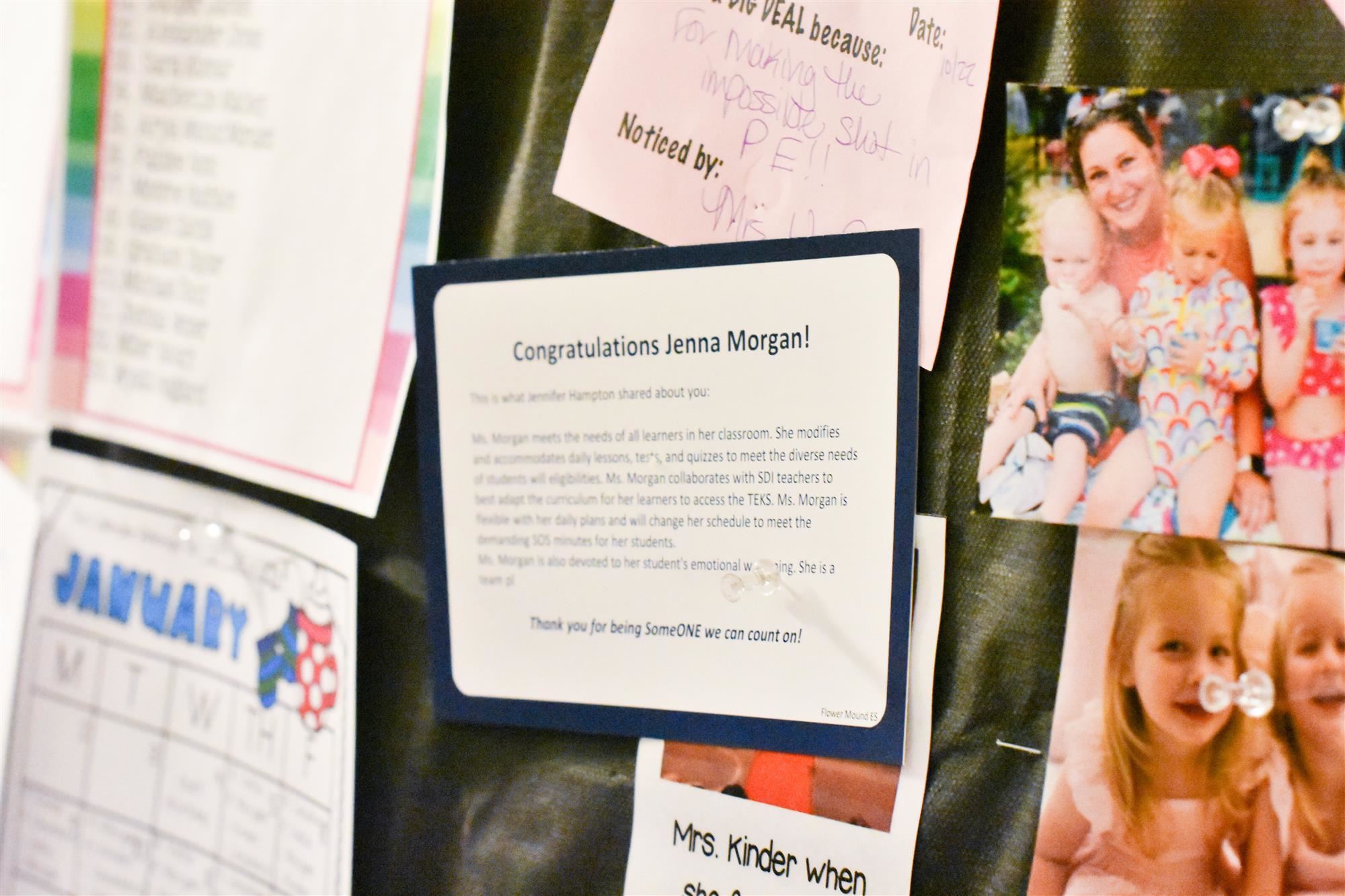 A Recognize SomeONE recognition hangs in Jenna Morgan's second grade classroom.
Emily's friend Jenna Morgan also went through the Ready Set Teach program during her days at Marcus High School. But that wasn't the only thing the two had in common - they'd actually both attended Highland Village Elementary School, Briarhill Middle School and then Marcus High School. "It's crazy that we went through all of LISD together," Jenna said of the pair's parallel journeys.
After studying education at Texas Tech University, Jenna taught elsewhere before moving back to the Flower Mound area last year. When making the move she knew she wanted to teach in the district she'd once been a student in, and reached out to Ready Set Teach teacher Ms. Watson for help. Ms. Watson helped Jenna apply at LISD, where she'd eventually get hired as a second grade teacher at FME.
In her classroom Jenna teaches her students about organization by example, color-coding and arranging their materials neatly around the room. Her love of organization is what sparked an unlikely friendship years ago that has made a lasting impact on her career.
"This story really sums up my entirety of LISD," she began. "In sixth grade I had a math teacher named Ms. Brogniez. She was a new teacher [at Briarhill], and I was terrible at math. Her cabinets were a mess, so I worked out a deal that I would organize her cabinets and she would tutor me. That relationship bloomed, and I felt like she was my safe spot." Sherie Brogniez would end up attending Jenna's 16th birthday party, bridal shower, wedding and later her baby shower. But she wasn't alone - Ms. Brogniez was joined by Ms. Watson, Jenna's former Ready Set Teach teacher, who attended many of these milestone events as well.
"Those relationships I had with those teachers gave me comfort," she said. "And the relationships really drew me back [to LISD]. To be able to give back to the district that made me want to be a teacher…to be a part of the experience that kids remember having. That's really what brought me back here."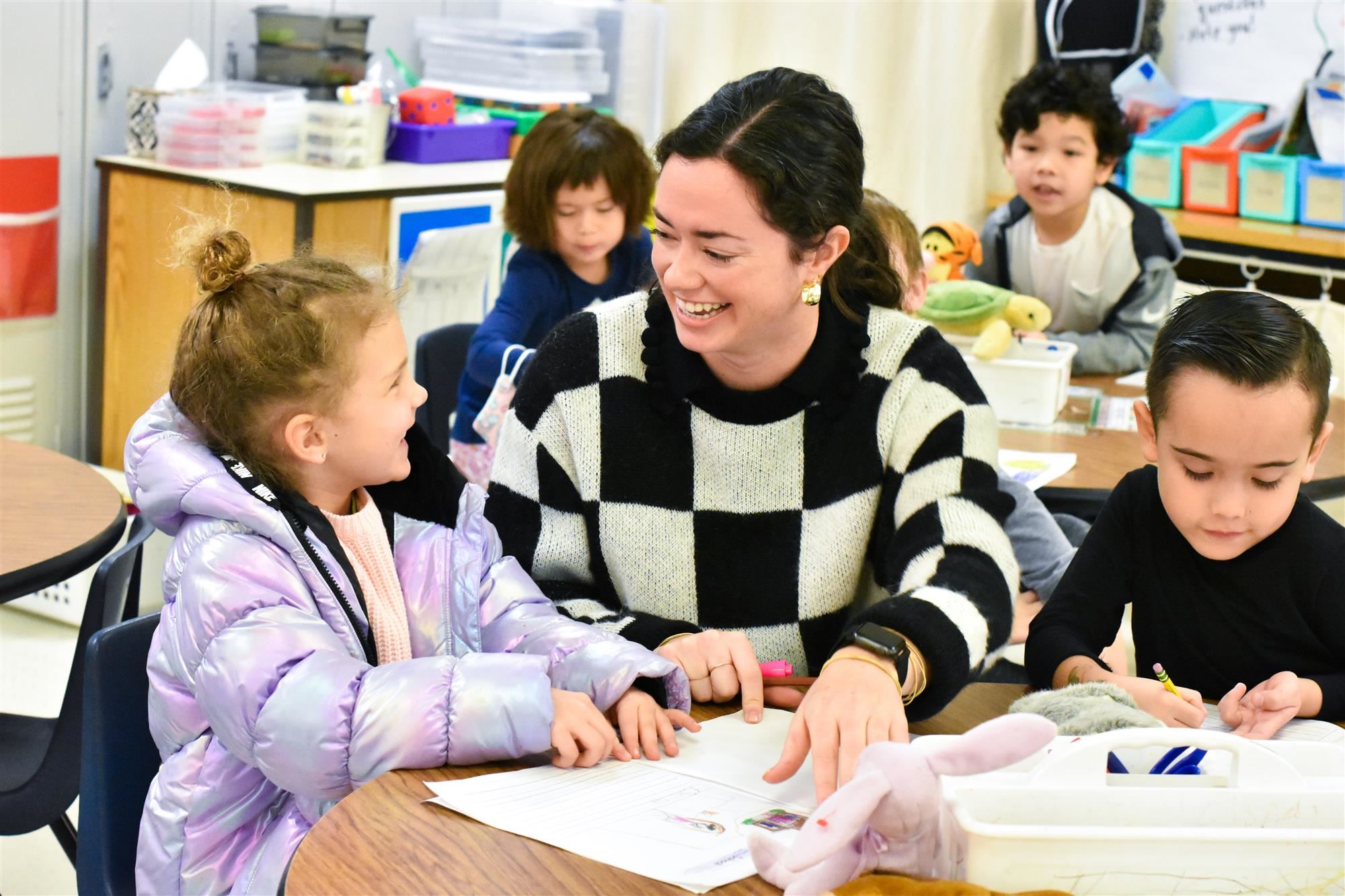 Kindergarten teacher Nicole Votolato teaching students in her former classroom.
FME Kindergarten teacher Nicole Votolato also credits relationships with bringing her back to LISD after a few years away. After spending years training in classical ballet, a torn ACL during her senior year at MHS derailed Nicole's plans of professional dancing. Nicole decided to instead attend the University of North Texas and major in education, where she was in the same cohort as now-colleage Anne Rogers.
After graduating from UNT Nicole pivoted to work at a non-profit before returning to her love of education. "When I decided to teach, I knew I wanted to come [back] to LISD," she said. But when she made that decision she couldn't have guessed that she'd end up at the very elementary school that she'd attended, and in one of the classrooms she'd once learned in.
"I teach Kindergarten in what was my fourth grade classroom," she explained. "And the teacher that I had, Ms. Ficaro, still teaches fourth grade right down the hall." Of course her former MHS classmates Jenna, Emily and Anne fill the halls as well.
"Now that I'm back with the district it's fun to run into people," she said. "I was always cared for and felt like I mattered to any teacher I had in LISD. Being a product of the place…it's cool to help carry that on in a way."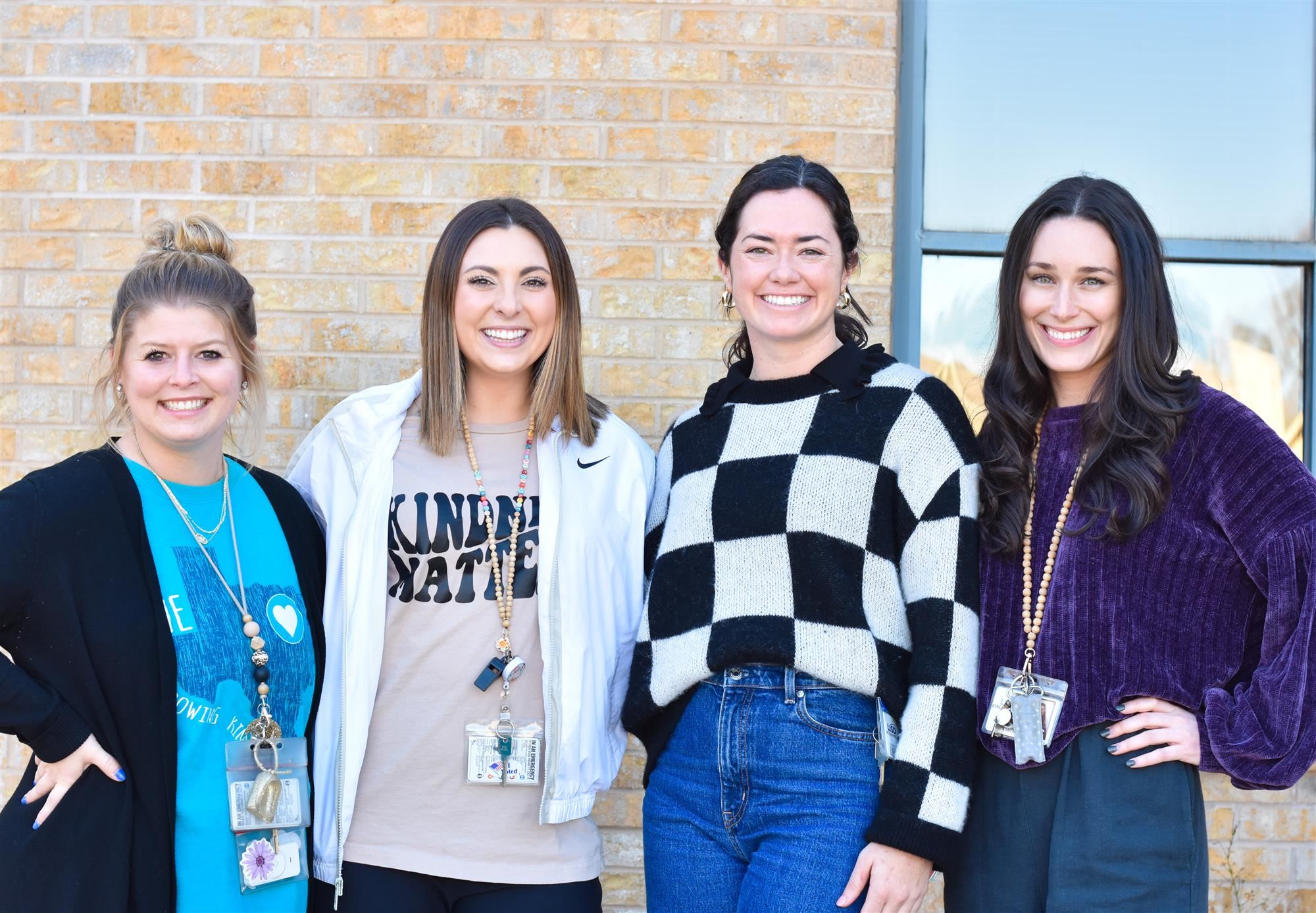 Pictured from left to right: Jenna Morgan, Anne Rogers, Nicole Votolato and Emily Mansfield.
Though there are nearly too many points of intersection to count in the stories of these four educators, they also value the differences that formed each of them into the people they are today.
"It's cool to be able to work with the girls I went to high school with and see how different our lives are," Jenna said. "The roads that we took and how we all ended up here…those roads taught us each something."
Those roads certainly taught them valuable lessons that they share daily with their students at FME. But of course, they value their shared experiences too.
"It's amazing," Nicole concluded. "This feels like home, and like we never really left."
---
Flower Mound Elementary is a Flower Mound, Texas elementary school serving Kindergarten through 5th-grade students with a future-ready learning experience in the Lewisville Independent School District. Flower Mound feeds into the Marcus High School attendance zone. Follow Flower Mound on Facebook and Twitter to see more student experiences throughout the school year. Join the Lewisville ISD family by enrolling today, or visit Best Schools in Texas to learn more.