Return to Headlines
The Loop Feature: Flower Mound High School Sophomore Uses Passion to Serve Others
This feature was first seen in Lewisville ISD's quarterly magazine The Loop.
Excelling in the classroom is nothing new for students in Lewisville ISD. Students are known for not only their academic excellence, but their fine arts and athletics prowess too. LISD students are also remarkably skilled at taking their passions to the next level. From developing mobile apps to publishing books, students across the district are thriving.
Meet Kaylee Pfister. Pfister, a sophomore at Flower Mound High School, is passionate about engineering. Engineering and technical jobs run in the family, and in fact, her mother, Mary Kay Pfister, even teaches at Donald Elementary, LISD's first elementary STEM academy.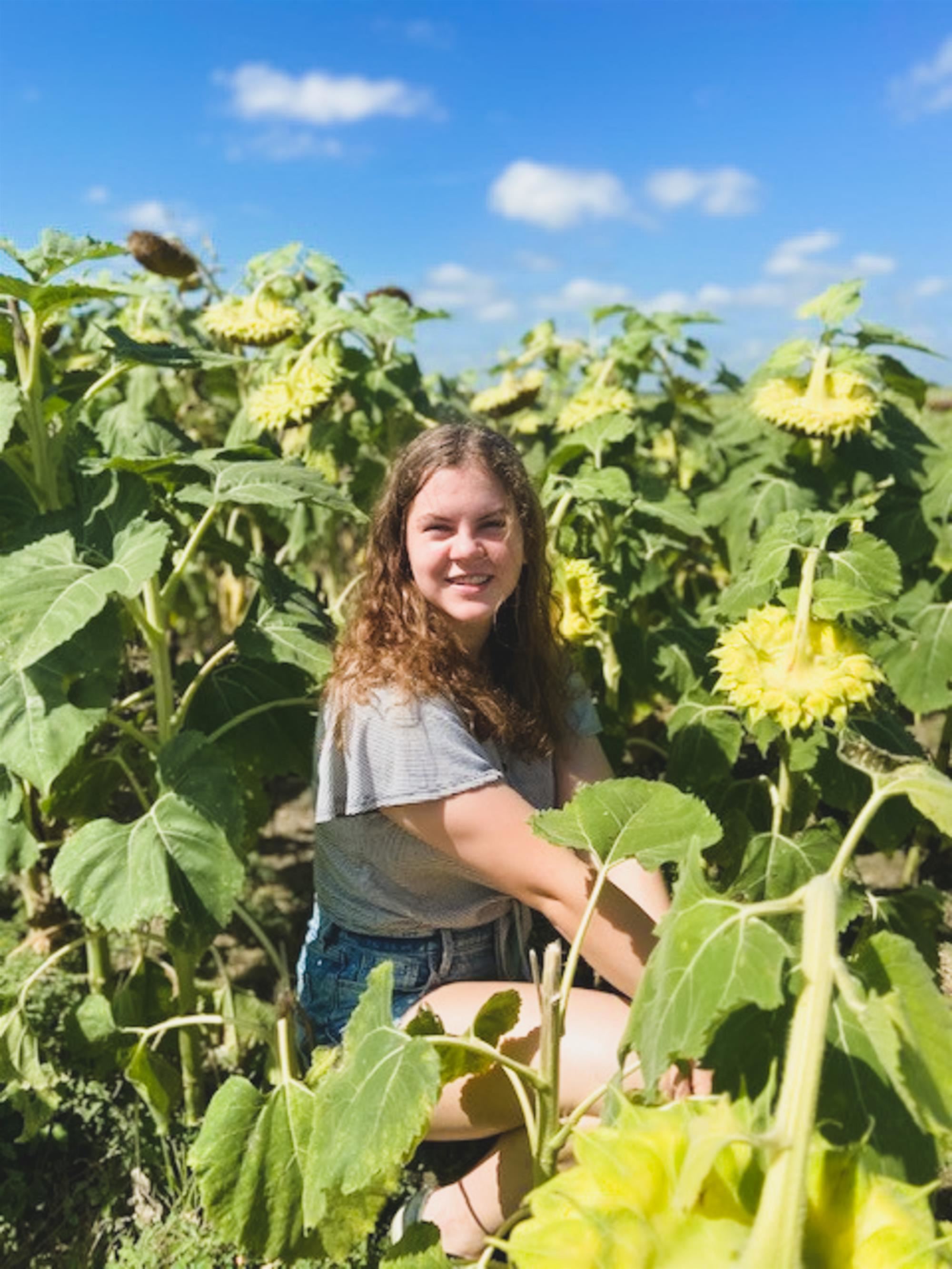 "The girls [her daughters] went to engineering camps, participated in LEGO programming, STEM overnights, college camps and more," Mary Kay, a third-grade teacher, said. "Now they are both college bound and interested in becoming engineers. I'm not sure they would have pictured that without the exposure."
In February 2020, wanting to share that passion with others, Pfister applied to become an ambassador for EngineerGirl, a program through the National Academy of Engineering that aims to draw attention and highlight engineering opportunities for girls and women. As part of her application, Pfister had to pitch an idea for a STEM program for girls in her community. Hers? A STEM club for girls at an LISD elementary.
"I was lucky enough to have a Gifted and Talented club at my elementary school, Garden Ridge, where we did STEM-related activities, and I absolutely loved it," Pfister said. "I wanted to give elementary school girls a similar experience while teaching them more about what engineering is."
This past fall, EngineerGirl announced Pfister as an ambassador, an impressive accomplishment for the sophomore, as the program typically only selects 20-25 young women nationwide each year. Pfister didn't waste any time getting to work on her STEM program idea.
"Part of my goal was reaching girls who hadn't had as much experience with STEM or engineering, so I looked for a school that didn't already have a program like this in place," she said.
Her research pointed her toward a school not far from where she lives, Flower Mound Elementary (FME).
"FME had a STEM Squad that would run their yearly STEM night, but other than that, the girls did not meet regularly," Pfister said. "Both the principal and Ms. Gwen Price, one of the sponsors of the STEM Squad, were excited about an opportunity to expand this program and very willing to help, so I decided to implement my program at their school."
Pfister created a flyer and a Google form, which Price and FME Principal Christine Van Scoyoc shared with families to help recruit girls for the revamped "STEM Squad" program. Seven girls, six in-person students and one virtual student, signed up. With interested students, plus a $250 grant and skills learned from biweekly meetings with EngineerGirl, Pfister was able to officially launch the club in late January. Pfister serves as the high school mentor, and Price serves as the club's adult sponsor. Pfister and Price selected Mondays as the meeting days, which take place both in person and virtually.
"We meet in-person about three times a month and virtually once a month," Pfister said. "The club works on a monthly schedule, each month focusing on a different type of engineering."
The first month focused on civil engineering. Meeting with the girls after school outside at the school's picnic tables, Pfister taught them what civil engineering is and what that type of engineer specializes in. Activities were based on civil engineering ideas, such as building popsicle stick bridges.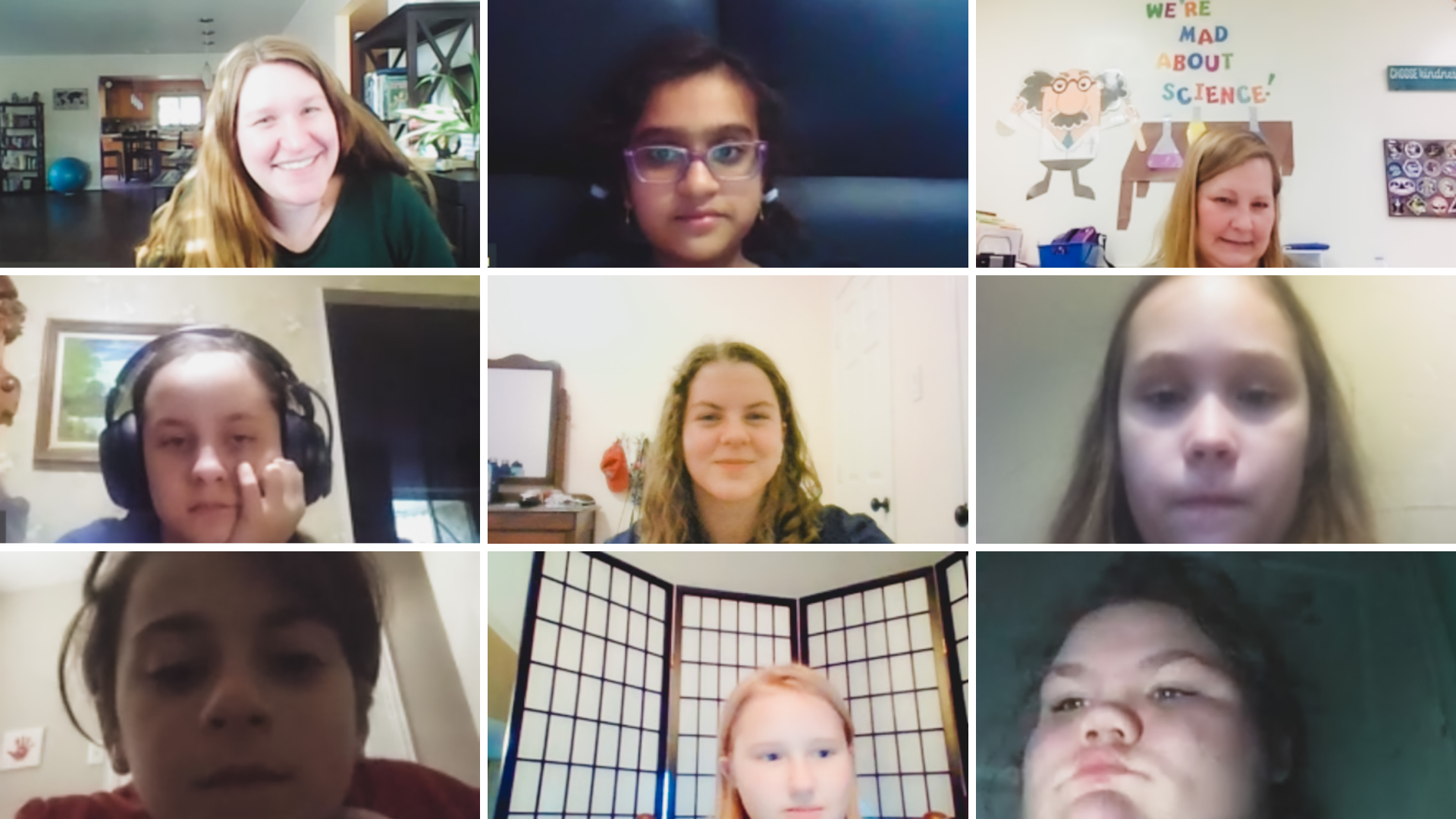 "The virtual meetings are talks with engineers in the field," Pfister said. "Our first one was with Mrs. Laura Powledge, who has a degree in industrial engineering. The meeting with her wrapped up our civil engineering unit, so the girls could see how what we learned and worked on applies to real life."
Although the ongoing COVID-19 pandemic has presented its own set of challenges, it hasn't been anything Pfister can't handle.
"EngineerGirl gave us the option to try to make things work during the pandemic if we wanted," Pfister said. "Ms. Price and I were both willing to give it a shot, and I started adjusting our program. I moved our meetings with engineers to an online format and I adjusted the capacity of our club. I also planned multiple backup options should we not be able to meet in person."
She added, "There's also been the challenge of working outside. Our activities are mostly disposable so that they're more COVID-friendly, but that means that we have to fight the elements. The wind had us on our toes the first meeting."
While Pfister originally desired for the girls to work in groups and build teamwork skills, she has been able to shift activities to be partner-oriented instead. She said her initial plan was for the girls to use LEGO Mindstorms inside, but realized disposable projects would be a safer route at this point in time. Despite the pandemic challenges, the young members of the club haven't seemed to notice, and instead enjoy being part of the program.
"The STEM club is a fun space to be with friends," fifth-grader Adrianna Parent said. "When we are there, we do activities and projects. And Kaylee makes it extra fun. She helps me and the others learn."
For sponsor Price, she couldn't be more impressed with Pfister, describing the teen as organized and driven, and marveled at how Pfister perseveres through challenges to ensure the club's success.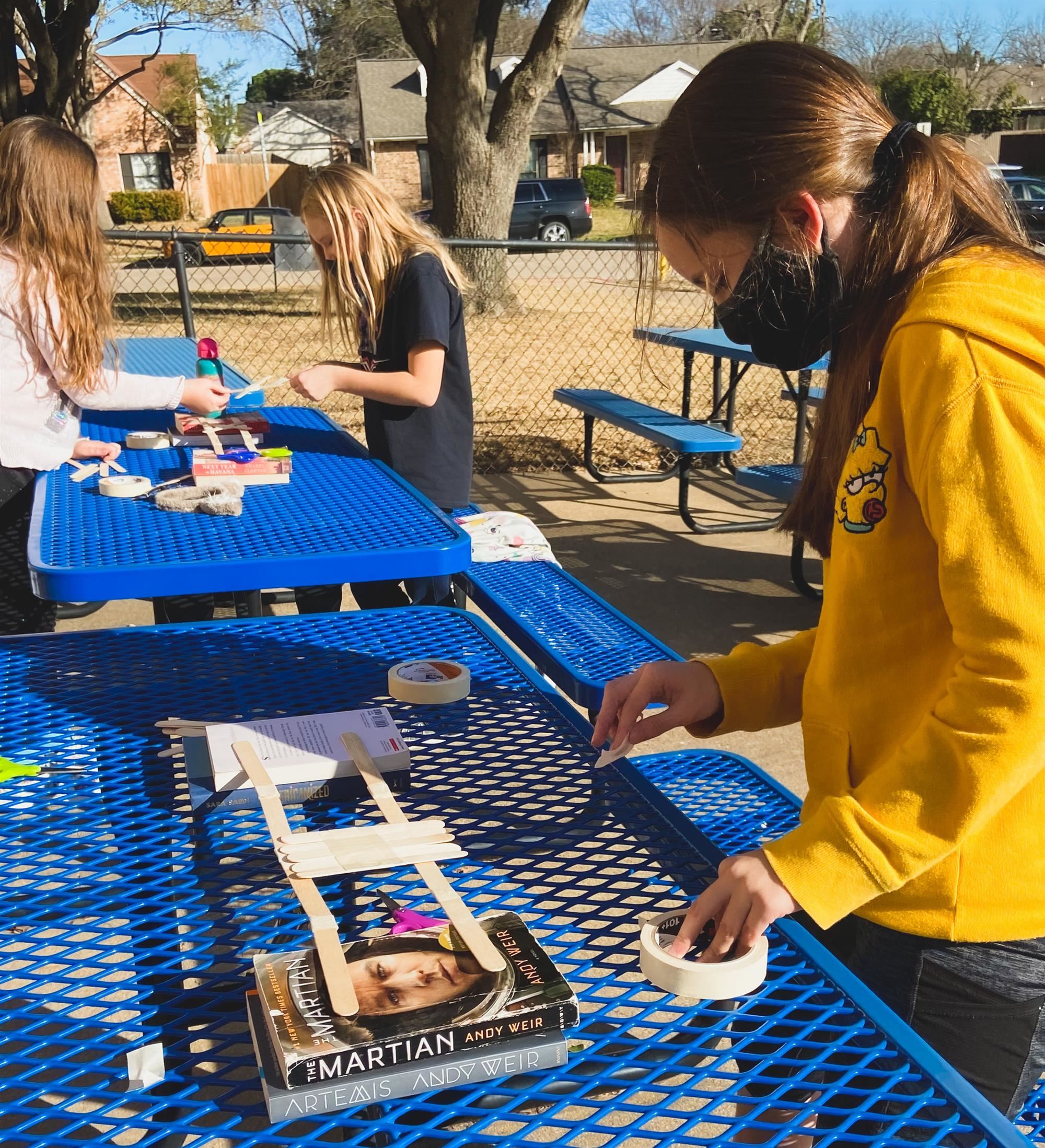 "Kaylee has worked to give each meeting a STEM focus, and the girls are so excited and motivated to try everything she has offered to them," Price, who teaches fifth-grade science, said. "She comes ready to lead the girls in various engineering challenges. She has connected with the girls and manages the challenges, the time, and the girls beautifully."
Pfister credits her parents and others in her life for her love for engineering. They are the ones who have fostered her excitement for all things STEM-related and part of the reason why she intends to study biomedical engineering or mechanical engineering with a focus in biology in college.
"Throughout my life, I have had many STEM mentors," she said. "My cousins who are pursuing engineering or are engineers, my freshman AP Biology teacher Mrs. Wilson who still reaches out to me with outreach opportunities, my elementary GT teacher Mrs. Rountree who encouraged my classmates and I to learn to code, and so many others. Each one has had such a profound impact on me."
She added, "They gave me confidence and inspired me to pursue engineering in the future."
Thanks to Pfister and her enthusiasm, coupled with her skills and knowledge, the STEM Squad at Flower Mound Elementary is flourishing. Just ask Price.
"Each Monday, when the girls see me, the first question out of them is if we will have a STEM meeting today," Price said.
The success of the club doesn't surprise Pfister's mother.
"Kaylee has always been interested in technical fields and trying new things, and it's so fun to watch her share this passion with others," she said. "I am so proud that she can offer this exposure to other girls – giving them a glimpse of what engineering might look like, and see if it peaks their interest, being able to share new ideas and projects in a fun environment!"
As for Pfister herself? She is thrilled to give back to her community through her passion and said she hopes to serve as a mentor for the young students like others have been for her.
"I've only just started working with these girls, and I can already tell that they are brilliant," she said. "I want all of them to have the chance to have the support that I had, and I want them to feel like they can reach out to me. I wouldn't be who I am without my mentors, so getting to be on the other side of that is incredible. It's so fun to watch them get excited about STEM. If I can inspire one girl to further pursue STEM or engineering, then in my book, this is all a success."
LISD promises that students will enjoy thriving, productive lives in a future they create. Pfister, and many other students across the district, is doing just that.
---
The Loop is a quarterly magazine from the Lewisville Independent School District. Click here to read previous issues.