Return to Headlines
The Colony Chamber Awards | November 2021
Ethridge Elementary student Andrew Romine and teacher Heather Lewis were recognized at The Colony Chamber's December Leadership Luncheon at Nebraska Furniture Mart in The Colony.

NOVEMBER STUDENT OF THE MONTH | ANDREW ROMINE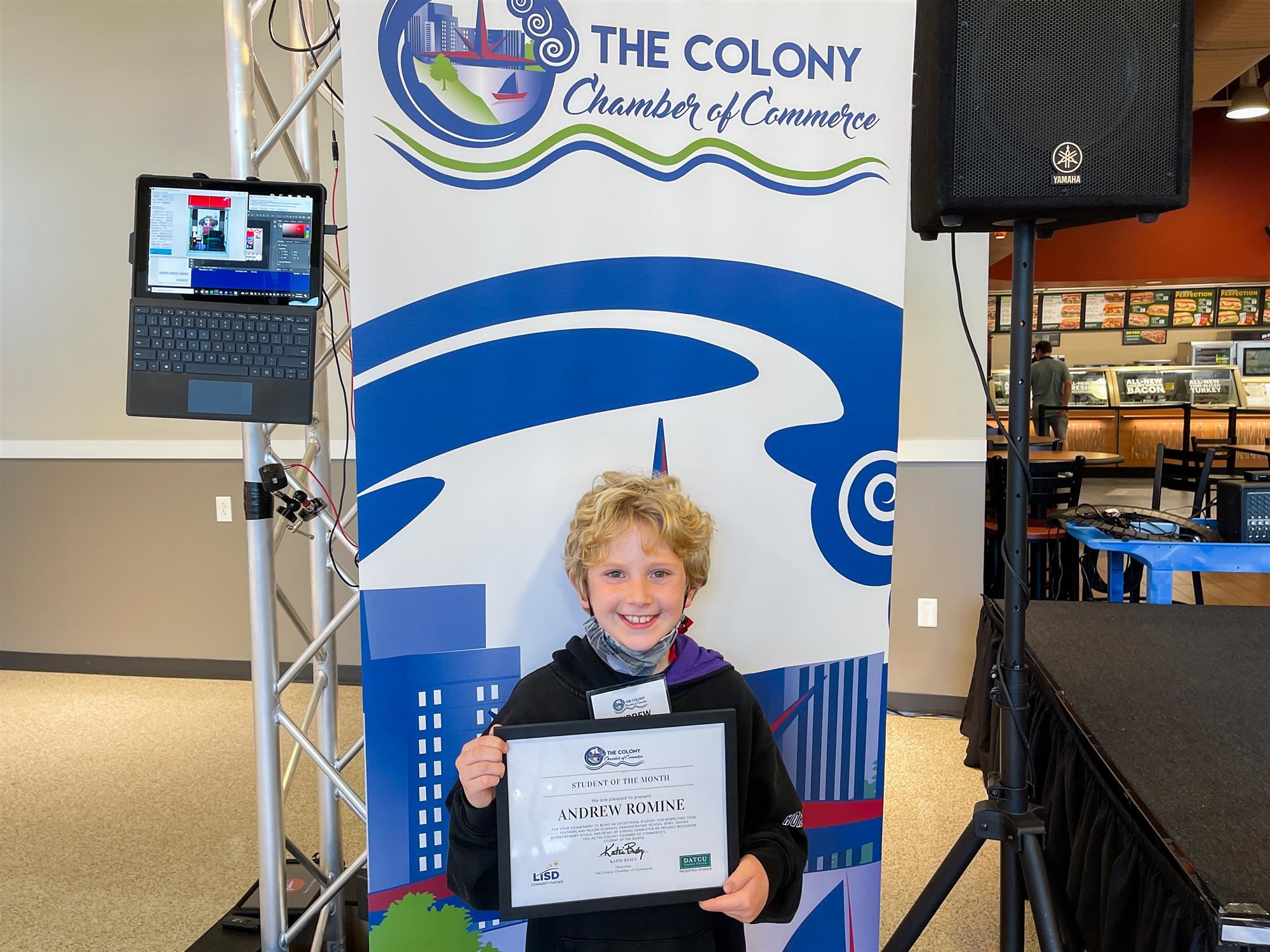 According to his teachers, Ethridge Elementary student Andrew Romine is a model student. He cares about his school, his classmates, and his academic progress. Andrew always uses the utmost respect with his peers and the adults at school. He is always willing to lend a helping hand because he genuinely cares about others. He is creative and works with other students to invent new games. He recently wrote a letter to Ethridge's Principal about a new club he would like to start after school. Andrew is a hard worker and does not shy away from a challenge. Ethridge is a great school because of students like Andrew. We are blessed to have him as an Ethridge Eagle. Andrew has a bright future ahead of him.
During his free time – Andrew likes to read, play a game he created, and play tennis.

Science is his favorite subject – Because his grandparents taught him a lot about science.

He loves – Seeing his friends every day at school.

He looks forward to – Learning new things, like algebra, in middle school next year.

He looks up to – His Uncle Bart. He is a respected doctor who has a waiting room named after him.


​​NOVEMBER TEACHER OF THE MONTH | HEATHER LEWIS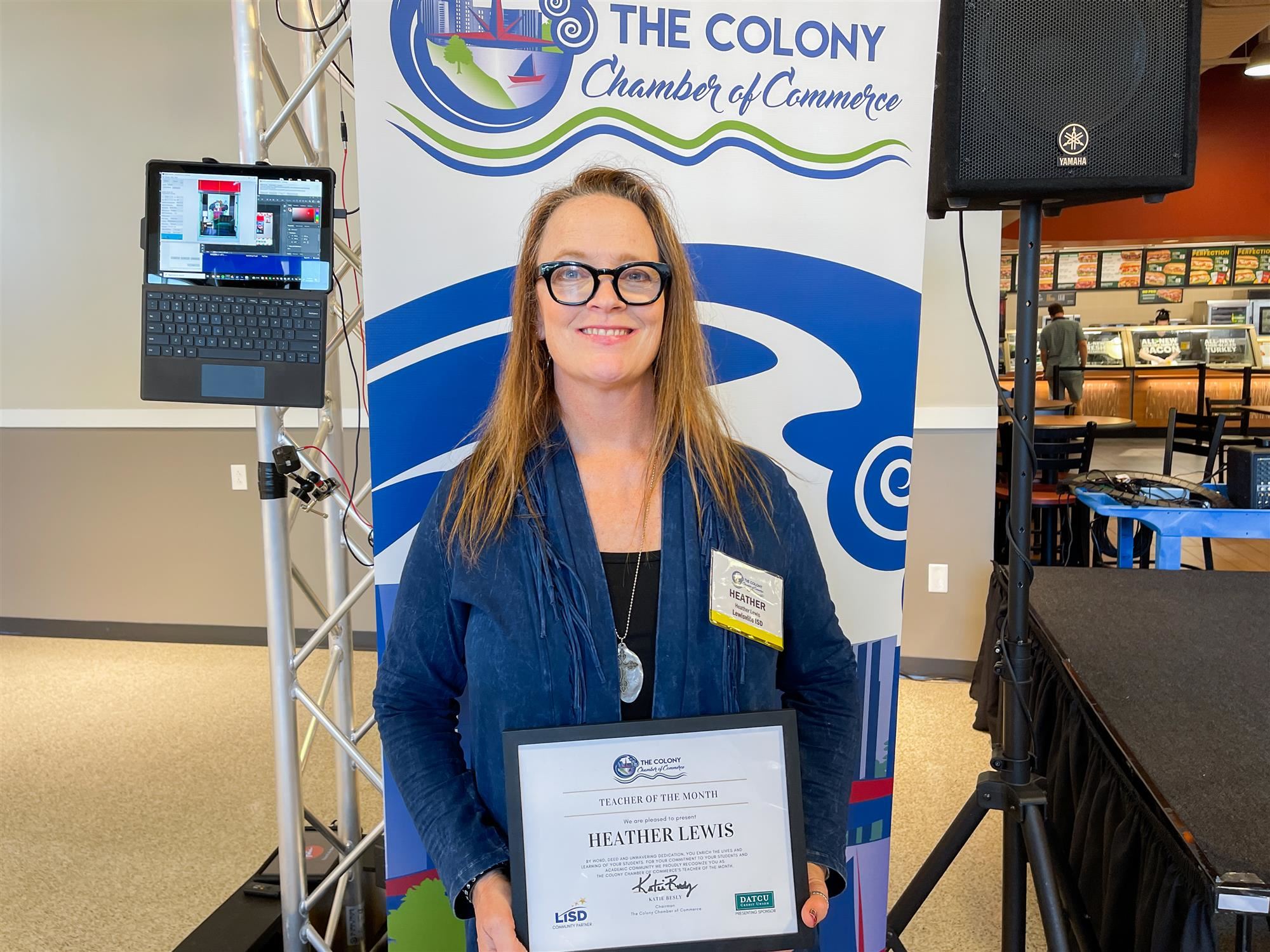 Ethridge Elementary Gifted and Talented Teacher Heather Lewis is a dedicated teacher that ALL Ethridge Eagles know and admire. Heather can be found moving boxes or donating supplies for new staff members as they orient themselves on campus. She serves as a campus liaison with The Colony Parks and Recreation Department and is vital to organizing and orchestrating Ethridge's Fun Run activities and incentive program. She embraces the Ethridge community and readily volunteers to drive her jeep with a kayak on top in The Colony's Homecoming Beach-themed Parade. Not only is she a technology guru who willingly helps students and staff, but Mrs. Lewis is one of the morning ambassadors at Ethridge and can dance with the best of them to "It's Raining Tacos" or "Baby Shark" while welcoming students in the early morning hours. Former students seek out Mrs. Lewis when they return to campus to share their current successes with her. She is a servant leader who positively affirms those around her, and finds the silver lining – even on the hardest of days.


---
Ethridge Elementary is an elementary school in The Colony, Texas, serving Kindergarten through 5th grade with future-ready learning experiences in the Lewisville Independent School District. Ethridge feeds into The Colony High School attendance zone. Follow Ethridge on Facebook and Twitter to see more student experiences throughout the school year. Join the Lewisville ISD family by enrolling today, or visit Best Schools in Texas to learn more.