Return to Headlines
Recipe for Success: Ethridge Elementary Student Turned Young Entrepreneur
For many, the summer is usually reserved for vacations and relaxation, but for one Lewisville ISD fourth grader, this past summer turned out to be a prime time to turn a beloved hobby into a promising business. Jasmine Cuchens, who attends Ethridge Elementary in The Colony, has always loved baking. Since she was six years old, the young student has found joy in creating recipes and baking tasty treats for her loved ones to enjoy.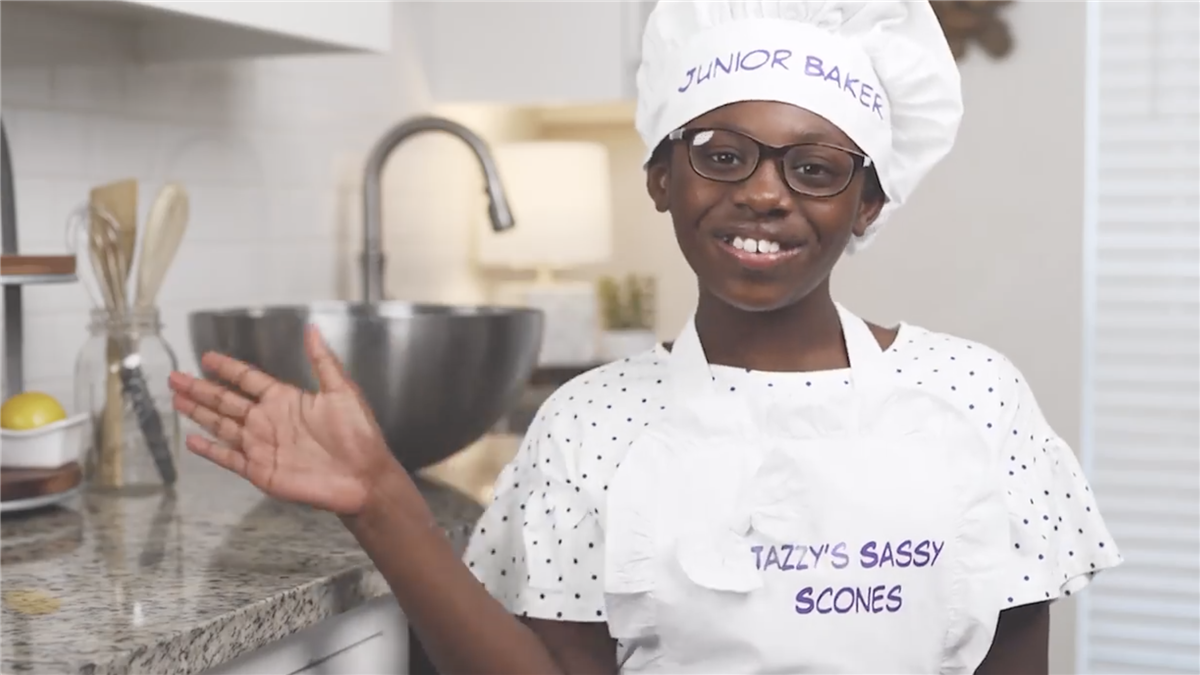 Image courtesy of Jazzy's Sassy Scones

"I was making a chocolate chip shortcake and everybody loved it," Cuchens said. "They said, 'Oh my gosh, these taste like scones.'"

It was at that moment, the idea for a bakery business was planted in Cuchens' head. Shortly thereafter, in mid-July, with Cuchens leading the way, her mom Laurie running the Facebook account and her dad Billy serving as sous chef, Jazzy's Sassy Scones became a reality.

Cuchens developed a seasonal menu and prices. Her current menu features summer flavors such as lemon blueberry, white chocolate strawberry and chippy chocolate. In her first week of operation, Cuchens received more than 30 orders and baked over 200 scones. The second week of business proved to be even more lucrative.

"Jasmine has always been a force," Laurie Cuchens said. "She has a huge drive to create and produce things. We realized it was turning into a legitimate business in week two when we baked and sold over 700 scones."

Support from Cuchens' community in The Colony has been overwhelming, with The Colony Chamber of Commerce and neighborhood social media groups promoting the budding entrepreneur.

"It feels like now half of the people in the neighborhood know me and people are counting on me to deliver them yummy scones," Cuchens said. "It's so fun."

Laurie Cuchens added, "So many people have left comments of inspiration and encouragement as well as wonderfully supportive reviews of the scones."

To date, Cuchens' promotional video has nearly 10,000 views on Facebook and has caught the attention of the news media, both locally and nationally. Popular home appliance brand KitchenAid even sent Cuchens a free stand mixer to help support her endeavor.

"I never knew that my business would go this far in success," Cuchens said. "I learned that I can inspire many kids to not wait until they are grown up to start their own business. They can start now!"

Cuchens also credits what she has learned in school with helping her run her new business, from using math for ingredient portions to speaking with confidence thanks to tips from speech class. Her school community has also been supportive of the junior baker.

"My teachers and principals ask me lots of questions, buy a lot of scones and love them so much," Cuchens said. "The kids in my class ask me over virtual learning chat if they can be an assistant or be hired by me."

Cuchens' teacher and Ethridge Gifted & Talented (GT) facilitator Heather Lewis describes Cuchens as amazingly creative with infectious enthusiasm.

"I am so proud that she took a creation and has built it into a business," Lewis said. "She had several goals to begin with and knocked them out of the park within two weeks."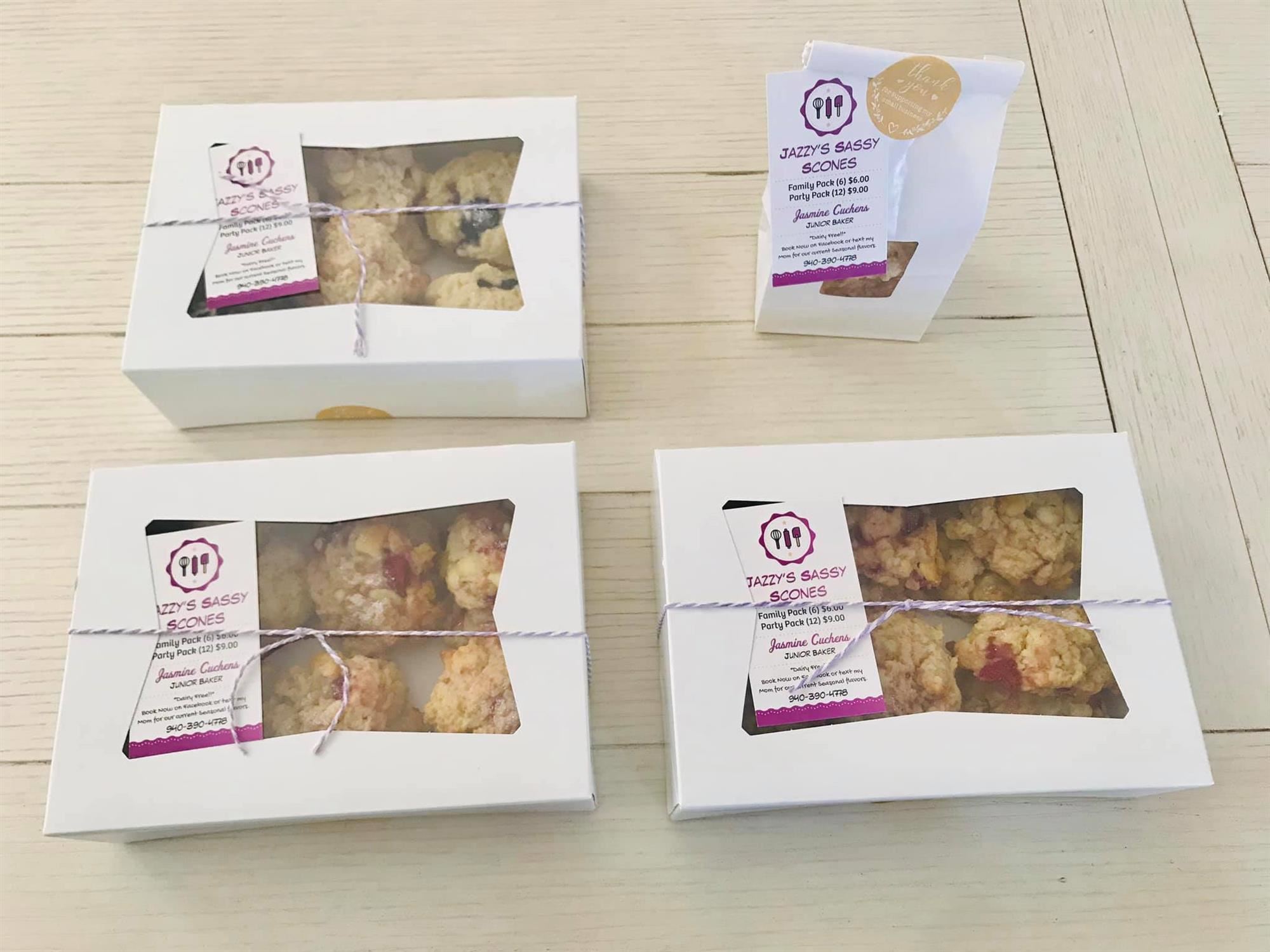 Image courtesy of Jazzy's Sassy Scones

She added, "This is the way that Jasmine tackles everything in life! She is always encouraging other students in class. Whether it is brainstorming an idea or figuring out how to make a project work, she always has multiple suggestions for any student. Her creativity and never give up attitude help her keep the ideas rolling."

Since launching her business, Cuchens has already made thousands in sales and has opened her own savings account with DATCU to deposit profits. But when asked her favorite part about owning her own business, Cuchens said it's seeing her customers enjoy her creations.

"During COVID you can't see a lot of people but I love to experience how people react when I sell them my scones face-to-face," she said.

The success of Jazzy's Sassy Scones is just the beginning. Cuchens already has several short and long-term goals in mind including selling scones at farmers markets.

"I eventually want to own a tiny house bakery on wheels to travel around and share my scones with all of America," Cuchens said.

Her dreams do not surprise Lewis.

"There is no doubt in my mind that she will blaze a trail pursuing her dreams," Lewis said.

In the meantime, Cuchens will launch her fall flavors, in addition to a logo merchandise reveal, in the coming weeks. Her signature purple branding will be sure to catch the attention of the LISD community.


---
Learn more and find out how you can try Jazzy's Sassy Scones.