Return to Headlines
LISD Celebrates First STEM Academy
LISD STEM Academy at Donald Elementary celebrates with official ribbon cutting ceremony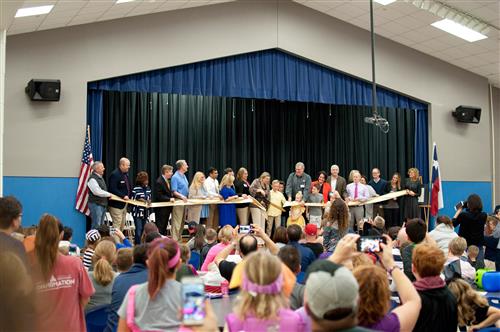 Oct. 26, 2018 — Lewisville ISD STEM Academy at Donald Elementary celebrated opening the district's first STEM Academy with a ribbon-cutting ceremony held Friday, Oct. 26.

The event featured a surprise video from the NASA Johnson Space Center's Acting Associate Director Michael Hess and a performance by Donald Drumming students. LISD Superintendent, Dr. Kevin Rogers; LISD Board President, Angie Cox; Donald Principal, Dr. Michelle Wooten; and Donald Student Council President Jack Wlazlowski all shared remarks. In addition, Dr. Wooten shared a special presentation of a star she purchased in the Orion Constellation to commemorate the beginning of their STEM journey. The star's coordinates are RA 5h37m1.59s dec -1°11'44.2".
Among guests in attendance were LISD Board Secretary Katherine Sells; LISD Board of Trustees Kristi Hassett and Jenny Proznik; LISD Leadership Team members; The Town of Flower Mound Council Members Kevin Bryant, Jim Engel, and Sandeep Sharma; Denton County Commissioner Bobbie Mitchell; and Texas House Representatives Tan Parker and Ron Simmons.
Following the ceremony and cutting of the gold-colored ribbon, guests were served refreshments and invited to attend Donald's Annual Fall Festival.
See more pictures from the ceremony on LISD STEM Academy at Donald Elementary's Facebook page and the PTA's Facebook page.


---
LISD STEM Academy at Donald Elementary is the first STEM academy in the Lewisville Independent School District and located in Flower Mound, Texas. Follow Donald Elementary on Facebook and Twitter to see more from the Dolphins throughout the school year or visit LISD.net for more information about our district.