Return to Headlines
Back to School Update | Aug. 4
LISD Families,
Welcome back! We are so excited to greet students on campuses next Wednesday, Aug. 10 and are eager to kick-off their learning journey together this year. As I shared with you in my last newsletter, there are a few important topics I want to provide a few updates on as we prepare for our official return next week.
The areas of school safety, COVID, and staffing continue to be a focus for our district and campus leadership as we work through challenges together. I have shared a few details about these issues in my video below, throughout this back-to-school newsletter and on our website. Please continue reading to stay up-to-date on these important topics.
I am beyond thrilled to witness the achievements of our students and staff this year, and look forward to accomplishing great things together. We are 50,000 students, 6,500 staff members, 127 square-miles, 13 municipalities, 5 feeder patterns. And we are ONE Lewisville ISD.
All my best for an incredible school year for you and your children.
Sincerely,
Lori Rapp, Ed.D.
Superintendent of Schools
Lewisville ISD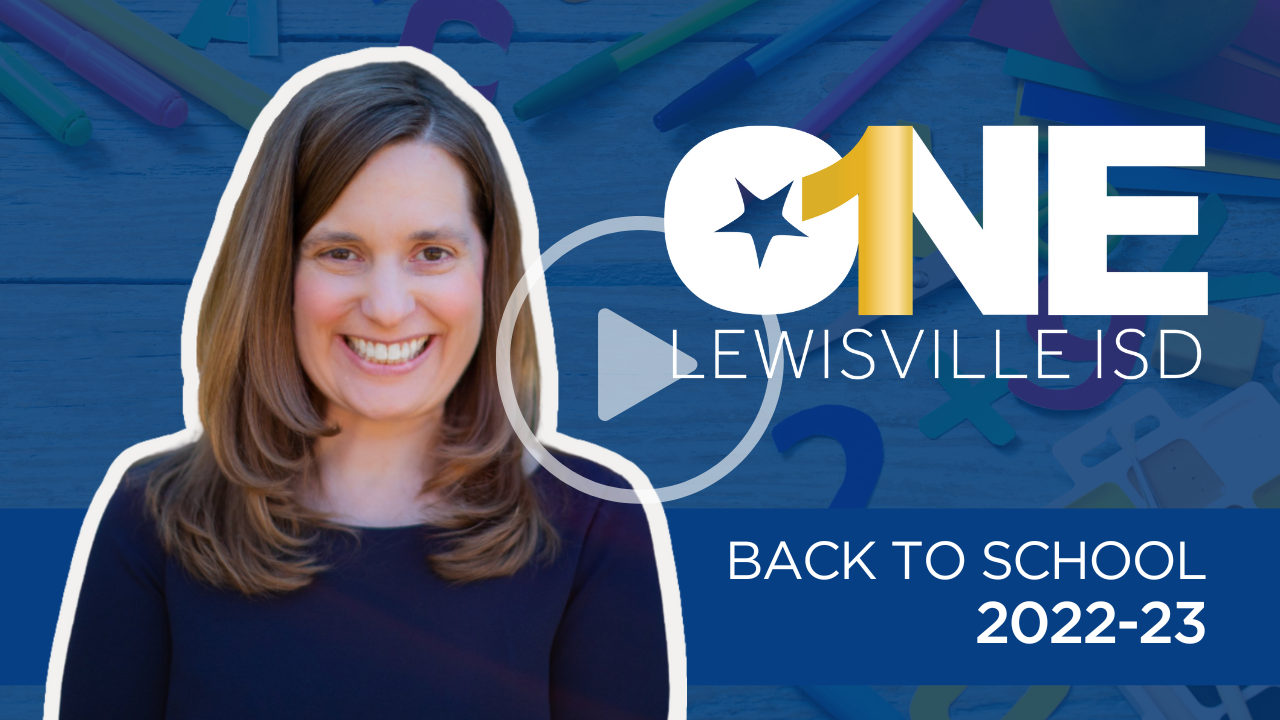 ---
Welcome to the 2022-23 School Year, LISD Families!
Below are a handful of resources and items to help ensure you are ready for the first day of school Wednesday, Aug. 10. Visit LISD.net/backtoschool for additional details.
SAFETY & SECURITY UPDATE
LISD partners with surrounding police agencies including Highland Village, Flower Mound, Lewisville, Carrollton, The Colony and Frisco to provide safe learning environments for students and staff. Throughout the summer, district leadership and local law enforcement have met to discuss the protocols and possible improvements to the safety procedures in place for LISD. Read the joint letter from Dr. Rapp and the local Police Chiefs to the LISD community here.
As families return to campus this year, you can expect to see:
An increased police presence on all campuses.
The implementation of the Elementary Rover Patrol Program, where our law enforcement partners provide uniformed officers in marked vehicles to monitor elementary campuses.
Weekly perimeter checks of all exterior doors by district and campus administration
The addition of a tip line for elementary families to report suspicious activity. (Remember, if you see something, say something!)
The emphasis by all district staff on the importance of reporting suspicious behavior instead of spreading rumors on social media.
Extensive training by law enforcement partners on LISD campuses, giving our police the knowledge and tools they need to respond to real emergencies.
Strict procedures for all individuals using the doorbell system at the entry of all LISD facilities. Reminder: Don't follow in the door behind someone, and don't allow someone to follow you through the door.
LISD's safety and security protocols and procedures can be found at LISD.net/safety.
Emergency Response & Communication
In LISD, we utilize the Standard Response Protocol, or SRP, which refers to five specific actions in the event of an emergency: Secure, Lockdown, Evacuate, Shelter and Hold. It is important to note, in the event of an emergency you will receive immediate notification from your child's campus and the school district. READ MORE about LISD's emergency communication practices.
COVID INFORMATION
LISD is committed to providing a safe learning environment for all students and staff. LISD will follow guidance provided by the Texas Education Agency (TEA), the Denton County Public Health Department (DCPH) and the Texas Department of State Health Services for any necessary adjustments to our COVID protocols. All resources related to COVID and our plans for the 22-23 school year are available at LISD.net/COVID.
ONE LEWISVILLE ISD
This school year, families can expect to hear about LISD's emphasis on one particular area of our Four Cornerstones, Community Engagement. Read more about this district-wide initiative, led by Superintendent Dr. Lori Rapp. READ MORE #ONELISD
COMMUNICATION COMMITMENTS
LISD is committed to building positive partnerships between staff and the communities we serve through clear communication channels, acting as a bridge for community engagement leading to effective outcomes. Review the Flow of Communication and Communication Commitments for families for details on how to best serve your teachers and LISD staff.
CONNECT WITH US
Stay tuned to the LISD Facebook, Twitter and Instagram pages to see moments from the first day of school at all of our campuses. Share your own with the hashtag #LISDb2s22 and #OneLISD.