Return to Headlines
Flower Mound Chamber Awards | March 2022
Donald STEM student Logan Pierce, teacher Janet Dever and school were recognized at the Flower Mound Chamber's April Luncheon held at Water Works Hall is Flower Mound on Tuesday, April 19.

STUDENT OF THE MONTH | LOGAN PIERCE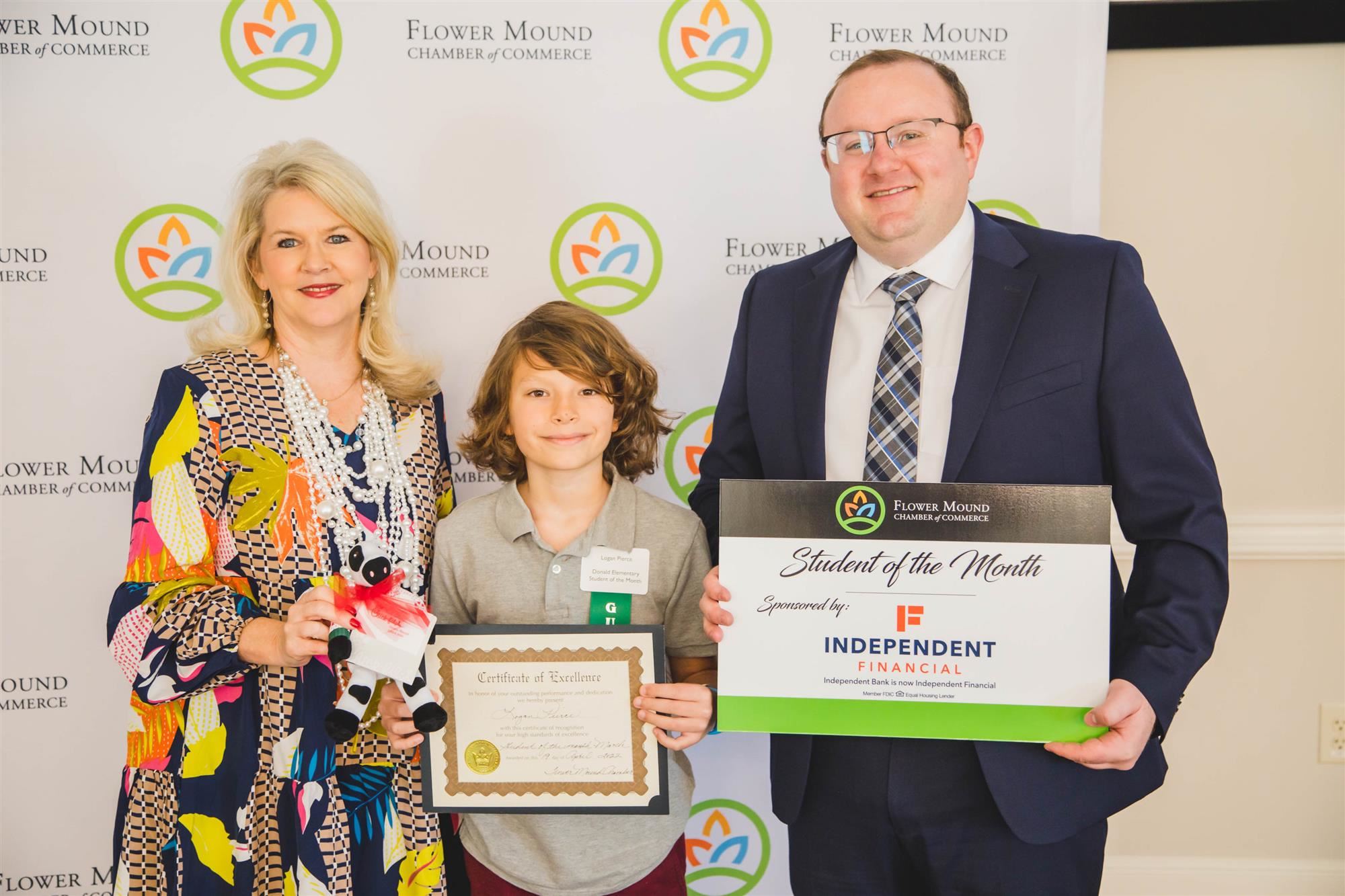 Donald Elementary 5th-grader Logan Pierce was recognized as the Flower Mound Chamber March Student of the Month. According to his teachers, Logan is such a bright light in and out of the classroom. He knows how to make others smile with just one look or one word and that's something that truly makes him stand out. He is always optimistic and adapts well to any situation or bump he may face along the way. His happy aurora is contagious, and we are so lucky to share in that spirit with him.

What are your hobbies, etc.? I like to swim, play video games, relax and not really do anything.
What is your favorite subject in school and why? Math, I like the process of finding the correct answer.

What do you love most about your school and why? How nice the teachers are. It is nice having really nice people to help and support me.

Who do you look up to and why? My mom. Because she is always nice to me and willing to help me.


TEACHER OF THE MONTH | JANET DEVER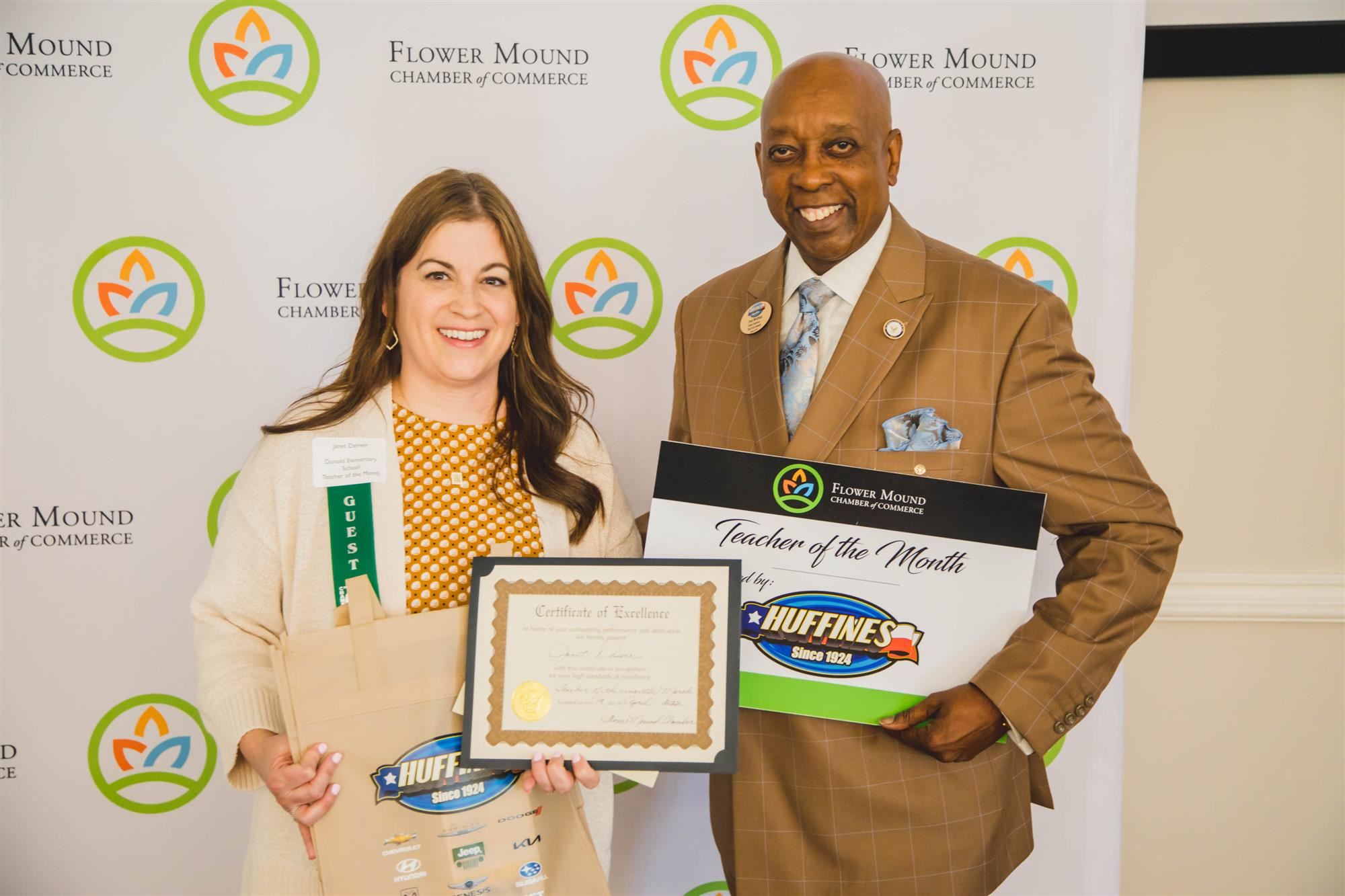 Donald Elementary teacher Janet Dever was recognized as the Flower Mound Chamber March Teacher of the Month. According to Donald Principal Heather Shorter, Mrs. Dever has dedicated 16 years to educating students at Donald Elementary. Currently, Mrs. Dever implements specially designed instruction as a Special Education teacher, which gives her the ability to support students across the Donald campus. She builds strong relationships with students and their families, and she is a mentor and a leader for other educators on the campus. Students who work with Mrs. Dever have expressed that she makes them feel important, excited about learning, and believe they can do hard things.
SCHOOL OF THE MONTH | DONALD ELEMENTARY | PRINCIPAL HEATHER SHORTER


LISD STEM Academy at Donald Elementary was recognized as the Flower Mound Chamber March School of the Month. Donald Elementary is a Flower Mound High School feeder campus serving about 600 students in Kindergarten through 5th grade. As the first nationally certified STEM campus in the state of Texas, Donald prides itself on finding ways to integrate "engineer thinking" into all areas of the school day. Our goal is to ensure every student who learns at Donald leaves our campus as a fearless problem-solver with the skills, compassion, and confidence needed to make positive changes in our world!
---
LISD STEM Academy at Donald Elementary is a Flower Mound, Texas elementary school serving Kindergarten through 5th-grade students with a unique STEM education experience in the Lewisville Independent School District. Donald feeds into the Flower Mound High School attendance zone. Follow Donald on Facebook and Twitter to see more student experiences throughout the school year. Join the Lewisville ISD family by enrolling today, or visit Best Schools in Texas to learn more.