Return to Headlines
Degan Elementary's Malvo Named Lewisville Area Chamber of Commerce Educator of the Year
First-grade teacher has been in education field for 27 years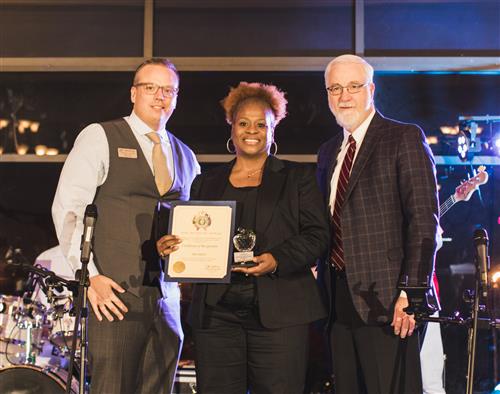 Feb. 8, 2019 – Degan Elementary's Ami Malvo was named 2018 Educator of the Year by the Lewisville Area Chamber of Commerce during its "Havana Nights" Awards Gala at Hilton Garden Inn Lewisville.
Malvo, who teaches first grade, was selected as the winner by Chamber representatives. The prestigious award, which is in its fifth year and sponsored by CoServ, honors a teacher who consistently goes above and beyond regular duties to truly make an impact on their school, Lewisville ISD and the community.
CoServ CEO Donnie Clary made the formal announcement along with Chamber Board Chair Dan Irvin and Emcee Kris Gutierrez of NBC Channel 5. Malvo was presented with a commemorative glass apple.
"To be named Educator of the Year is truly humbling," Malvo said. "I appreciate the Lewisville Area Chamber of Commerce being an advocate for public schools. This award is a reflection of our entire campus – the hard work by Degan Elementary's teachers, staff members and students under the leadership of Principal (Vanessa) Stuart. She has worked with us to market students' achievements and positive changes."
Malvo has been teaching at Degan Elementary since 2011. She was a teacher and assistant basketball/track coach at Marcus High School from 1998-2010. Before that, she had elementary teaching and high school coaching stops in Port Arthur ISD. She has been in the education field since 1992.
"This award is shared with my colleagues – present and past – who encourage lifelong learning in children," Malvo said.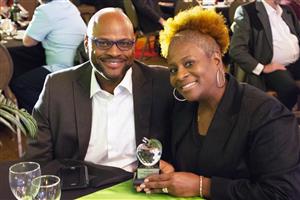 Malvo is known for helping her first-graders grow, collaborative work with peers and rapport she has built with students, families and the community. Students know they matter to her — even long after they have left her classroom. She is an advocate for not just Degan Elementary and LISD, but public education as a whole. Malvo is always willing to share the stories of her students, school and district. She brings a strong passion for teaching to work every day.
Malvo was also named Lewisville Area Chamber of Commerce Teacher of the Month in September and is Degan Elementary's current Teacher of the Year.
"Mrs. Malvo is incredibly deserving of all her honors," Degan Elementary Principal Vanessa Stuart said. "She is innovative in her practices with students to ensure their success and is a leader on our campus – modeling the way for others. She is a member of the LISD community and a proud voice for our school, district and public education. She not only talks the talk, but she consistently walks the walk."
Malvo earned her Bachelor of Science degree in Interdisciplinary Studies from the University of North Texas, where she played basketball and ran track. Malvo and husband, Carl, have two children.
Malvo was accompanied at the awards gala by her husband, LISD Chief Schools Officer Dr. Joseph Coburn and several LISD Board of Trustees members.
Malvo joins Career Center East's Stan Feighny (2017), Lewisville High School's Grant Wilhite (2016), Durham Middle School's Karen Bradford (2015) and Central Elementary's Ale Babino (2014) as winners of the Chamber's top educator award.


All-Time Lewisville Area Chamber of Commerce Educator of the Year Award Winners
2018 Ami Malvo, Degan Elementary
2017 Stan Feighny, Career Center East
2016 Grant Wilhite, Lewisville High School
2015 Karen Bradford, Durham Middle School
2014 Ale Babino, Central Elementary