Return to Headlines
12th Annual Chin Festival Welcomes Community, Honors Culture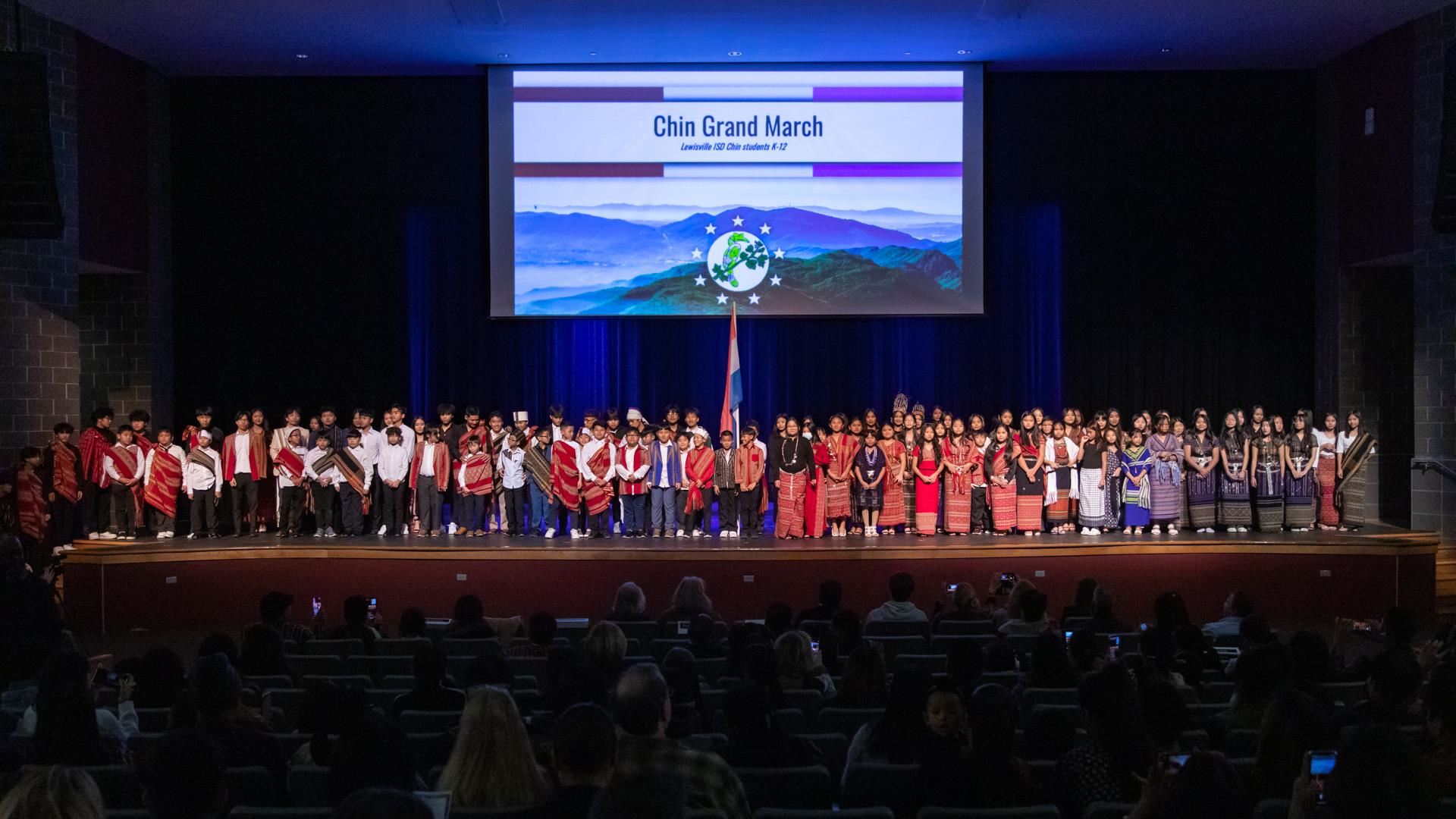 Since its inception in 2011, Lewisville ISD's annual Chin Festival has provided the LISD community with an opportunity to be immersed in a unique cultural experience. This year's student-led event was no different, treating the audience to selections of traditional Chin dance, song, fashion and food.
Attendees included members of the LISD Board of Trustees, district administration, municipal government officials and hundreds more members of the community. Teachers and pastors from local Chin churches were recognized for their efforts in ensuring that the LISD Chin community continues to thrive.
The event, now in its 12th iteration, is designed to honor the Chin students and families that call Lewisville and LISD home. In the early 2000s, the area became a haven for members of Chin State, a region of western Burma (Myanmar), seeking refuge from religious and racial persecution. Many were forced to flee, moving only under the cover of night, on foot for hundreds, or even thousands of miles through the mountains of Southeast Asia. Upon reaching refugee camps in Malaysia, many Chin eventually immigrated to the United States, with a significant percentage finding a home in Lewisville.
Andy Plunkett, LISD Chief of High Schools, who has been involved with the Chin Festival and the Chin community since the beginning, reflected on the impact that the event has had on LISD's Chin students.
"This event has brought a new sense of cultural pride for Chin students. I think that they all knew that their culture was special, but they didn't realize that the rest of the world would embrace it like we have in the last twelve years."
An early celebration of Chin National Day, which is held annually on Feb. 20, over 100 Chin students from across LISD schools participated in the festivities. Performances included traditional Chin dances, fashion shows from both Lillie J. Jackson Early Childhood Center and LHS students, several vocal performances and a keynote presentation by LHS alumni Moses Bawi, Sung Khen, Ngun Hliang, Amos Sang and Ngun Sui Zi.
These five alumni recently traveled back to Chin State on a personally funded mission trip to rebuild schools in Chin State and connect with Chin students and families struggling under the current military junta.
Sung Khen, a 2016 graduate of LHS and now a teacher at Southridge Elementary, spoke about what it meant to return to Burma.
"Over a decade has passed since I left Burma, but all of the memories of the school, the uniforms, the teachers and so much more are still glued to me. I remember them well. However, what saddened me the most was the fact that the reality is unchanged. Just as it did mine, I believe that even the smallest act can make a difference in someone's life, especially during this difficult time."
Moses Bawi, who graduated in 2015 and now teaches at Vickery Elementary, discussed the importance of sharing the story of the Chin community with others.
"It gives me a sense of accomplishment to bring awareness to the community, especially the young ones. It will encourage and inspire young ones to do something for others. Life is not about 'me' only, but about others."
Bawi, who narrated over a video shared with the Chin Festival audience covering the group's mission trip, again emphasized the importance of leaning on the community to overcome adversity.
"We need people. In order to continue to fight injustice, we need each other."
Chin Club president Rosie Pui emceed the event, providing additional insight into the various performances and presentations. Pui, a senior at LHS, also presented special awards to Reverend Zam Mang Mualcin from Chin Evangelical Baptist Church and Reverend Dr. Chum Awi from Chin Baptist Church for their contributions to the DFW Chin community. Reverend Mualcin was the first person to build a Chin church in the city of Lewisville, and Reverend Dr. Awi established the first Chin church in the DFW area in 1999. Both pastors paved the way for the growth of Chin culture within LISD.
Also recognized during the Chin Festival were Jack Martin, an ESL teacher at LHS Harmon, and former LISD teacher Seth Ross, who are both founders of the LISD Chin Festival. The two educators were presented with awards for their work with Chin students and for their help in easing the transition into LISD.
The festival concluded with a recognition of graduating (and recently graduated) seniors from the Chin community. Seniors also named the LISD faculty and staff that have made the greatest impact on them during their educational careers. Students were honored together on stage in front of a crowd of over 500 spectators.
During her closing remarks, Pui thanked the LISD community for providing space for Chin culture to shine in Lewisville.
"To all the teachers and staff who have helped me and every Chin student here through this difficult journey, thank you. Thank you to our pastors, our teachers and our parents for being the foundation for us and providing a community for us to grow. You are the reason why we are here tonight."
Click here to view photos from the 12th annual Chin Cultural Festival.
---