Return to Headlines
Lewisville Chamber Awards | March 2021
MARCH STUDENT OF THE MONTH | ANTHONY LOPEZ MENDEZ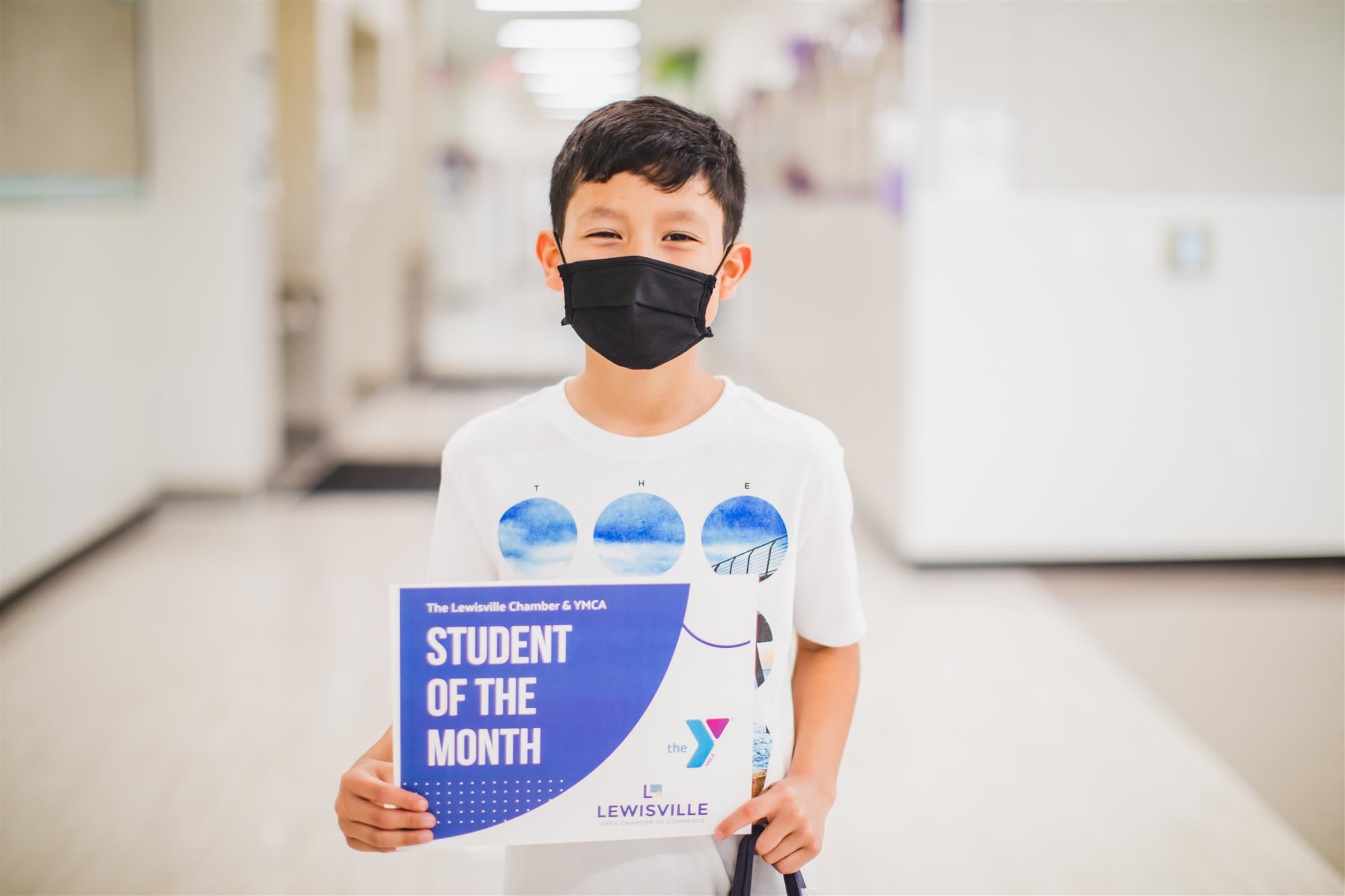 Mill Street Elementary 5th-Grader Anthony Lopez Mendez was recognized as the Lewisville Chamber/Cross Timbers YMCA's March Student of the Month. Anthony is a great leader inside the classroom and out. Anthony not only displays many characteristics of great leaders but will take time to help his peers become leaders as well. Anthony has a great ability to solve various problems academically and personally. His critical thinking skills are beyond average and his grades show for it. Anthony never passes an opportunity to participate in class and learn a new concept. Anthony is always willing to help others. Anthony's peers and teachers alike know that he is someone they can count on and trust. Without a doubt, Anthony will achieve great things in life.
Anthony is hardworking and strives to do his best in all areas. He demonstrates responsibility in his learning and follows through with tasks. He is respected by his peers and leads with confidence. Finally, he puts first things first and works well with others. There is no doubt he will create a great future for himself and will make a great contribution to our community.
What is your favorite subject in school? My favorite subject is Math.
Are you involved in any school clubs or after-school activities? Dance club
What do you enjoy about your school and why? I enjoy learning new things every day and making new friends.
What do you look forward to in middle school? To get to know more people and learn more complex concepts in Math.
Who do you look up to and why? Ms. Mason, because she helps us when we have problems and I like to help other people. I think I would like to be a counselor when I grow up.


MARCH TEACHER OF THE MONTH | ASHLIE HALL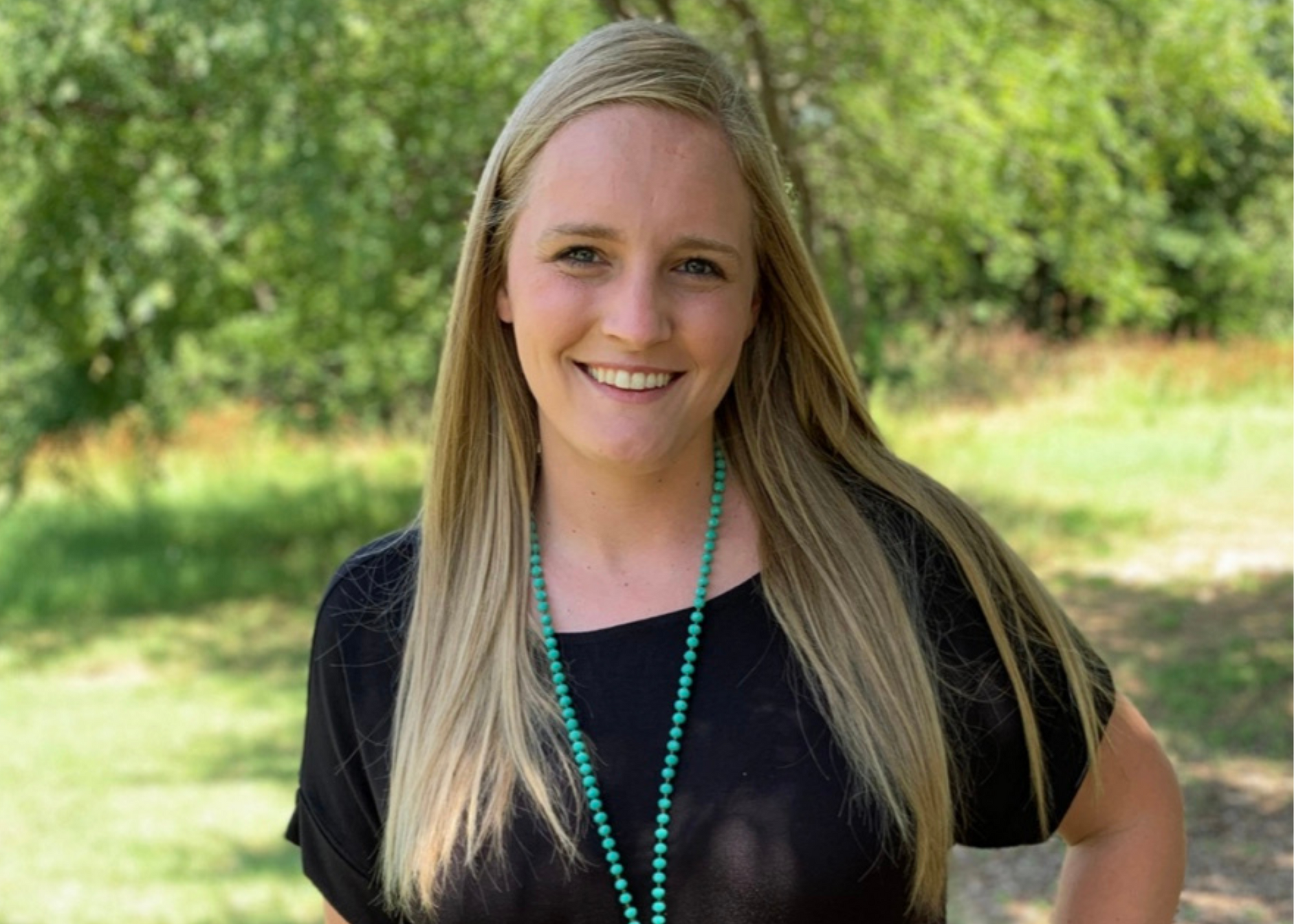 Mill Street Elementary third-grade teacher Ashlie Hall was recognized as the Lewisville Chamber/Huffines Auto Dealership March Teacher of the Month. Mrs. Hall is a proven leader to not only her 3rd-grade team but also her campus. She takes initiative and goes the extra mile to support her teammates. She wants everyone to shine, not just in her own class. As the team lead, Mrs. Hall is organized, respectful, reliable, and has built trust with her team. While she is set to be on leave soon, she has prepared specific information to help each of her students, because she truly believes that relationships come first, learning second. As a result, her students hang on her every word. Her guided reading data has specific, anecdotal notes on each child, making "next steps" seamless. She began planning for her students months ago because she wants them to continue to be successful. Mrs. Hall is a continuous learner and continues to collaborate with Instructional Coaches. To ensure student success, Mrs. Hall sets aside time for her students to create academic and personal goals each month to go over with an accountability partner. Overall, Mrs. Hall has a servant heart and a leadership spirit.
MARCH SCHOOL OF THE MONTH | MILL STREET ELEMENTARY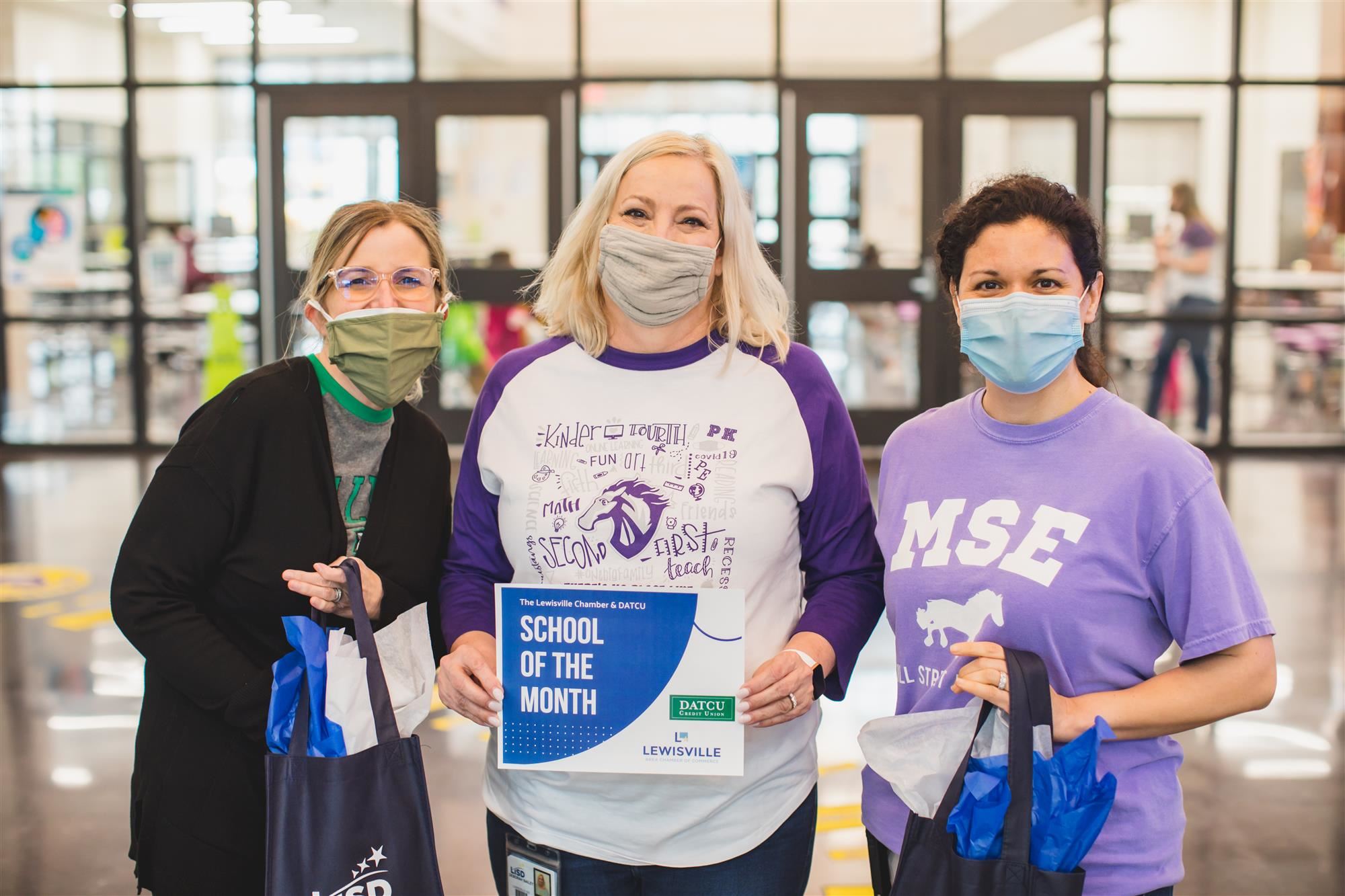 Mill Street Elementary was recognized as the Lewisville Chamber/DATCU March School of the Month. Mill Street Elementary opened in October 2019 as a part of the Lewisville ISD community-wide bond election in 2017. Mill Street has 542 students in Pre-K through 5th grade with approximately 50 percent enrolled in LISD's dual-language program. The campus is a Leader in Me school, which is an evidence-based program that gives the school the opportunity to establish a "whole-child" mindset with a belief that all students have genius and everyone can be a leader. Mill Street's goal is to create well-rounded students by preparing them to become life-ready learners with the skills necessary to thrive in today's ever-changing, fast-paced environment.
---
| | | |
| --- | --- | --- |
| March | School | Mill Street Elementary |
| | Teacher | Ashlie Hall, 3rd Grade Teacher |
| | Student | Anthony Lopez Mendez, 5th Grade |
| February | School | DeLay Middle School |
| | Teacher | Cedrick Jones, ALS Teacher |
| | Student | Reaunna Fletcher, 8th Grade |
| December | School | LHS Harmon 9th & 10th Grade Campus |
| | Teacher | Coach Jon Ann Roper |
| | Student | Carlos Plazola Castillo, Sophomore |
| October | School | Lakeland ES |
| | Teacher | Kim Nguyen, Language Acquisition Specialist |
| | Student | Henoc Castelan, 5th Grade |
| September | School | TECC-West |
| | Teacher | Cindy Porter, Cosmetology Instructor |
| | Student | Caylie Cummings, Senior |
---
Mill Street Elementary is a Lewisville, Texas elementary school serving kindergarten through 5th grade in the Lewisville Independent School District. Follow Mill Street Elementary on Facebook and Twitter. To see more student experiences throughout the school year or find more information about joining the Lewisville ISD family, visit Best Schools in Texas.