Return to Headlines
Virtual Read Alouds at Mill Street Elementary
Ask anyone about their favorite memories from elementary school and many will likely fondly remember sitting in class, listening to their teacher read aloud a popular book. With the transition to At-Home Learning for the final two months of the school year, in-person read alouds were no longer possible, but thanks to technology and creative thinking, Mill Street Elementary students in Olivia Nicholson's fourth grade class still had the opportunity to enjoy read alouds by their teacher.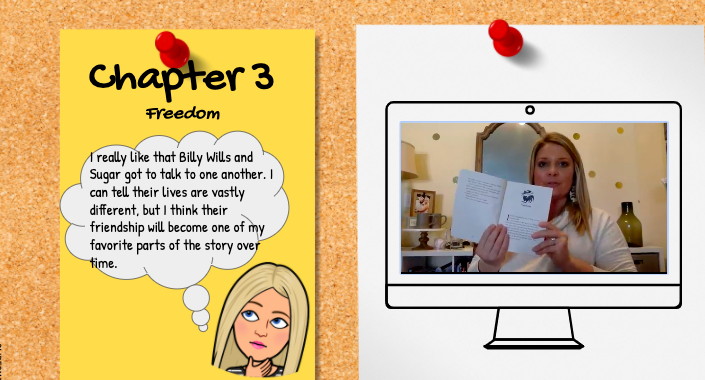 "As At-Home Learning started around the nation, teachers on various social media platforms were sharing their ideas about how to continue building relationships with their students, as well as fostering their love of reading and enjoying great books," Nicholson said. "I simply put into practice an idea that other great educators were willing to share, but with our own twist."

The twist? These virtual read alouds were self-paced as students had the ability to access a slideshow and listen to Nicholson read on their own time. Behind the scenes, Mill Street Librarian Michelle Brosi had reached out to publishers so Nicholson could easily follow copyright laws. After listening to the read aloud, students would share feedback by leaving a comment on the shared Google Classroom post and would rate each chapter using emojis.

When Nicholson first kicked off the virtual read aloud, she asked students to vote which book they wanted to hear first. "Sugar" by Jewell Parker Rhodes was the winner.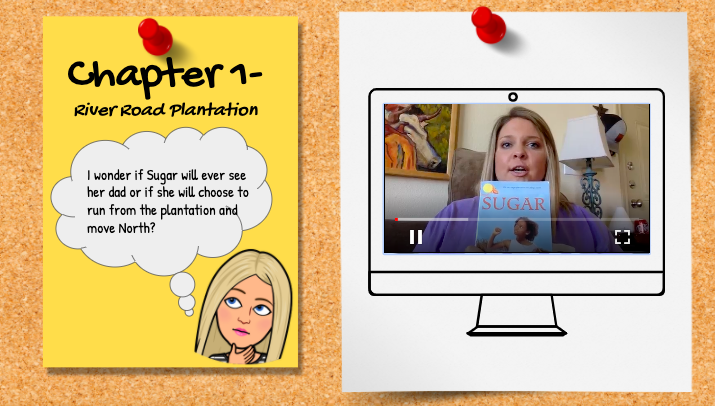 "I gave students four different novel options and recorded myself reading a synopsis of each text," she said. "I tried to vary the genres to hit the interests of all my students as well as give students an opportunity to try a book they may not have chosen on their own."

The read alouds were a hit with the students.

"I liked the virtual read aloud because it makes sense when someone is reading out loud to me," fourth-grader Marika Isler-Ziebarth said. "My favorite part is the pictures."

For Nicholson, the read alouds served several purposes. While she wanted the read alouds to encourage students to continue to read while at home, Nicholson also wanted to ensure she and her students were still connected, even though they weren't in the classroom.

"One of our class's favorite times of the day was read alouds," Nicholson said. "We would gather on the carpet and listen to a new story together. Many times, these books would connect to learning standards and leadership qualities we learn at Mill Street, but every time we read a book and discussed it together, it allowed us to connect on a deeper level, learn to have empathy for one another, and consider life from all different perspectives."

She added, "My ultimate goal for this 'project' was for my students to remember what it was like to circle up, listen to a story, and feel connected."

The 2019-2020 school year has been unlike any other. However, because of the innovative ideas shared amongst educators and the commitment of teachers such as Nicholson, school communities have risen together and weathered the challenges put in front of them.

"At-Home Learning has been a learning curve to say the least, but I am so thankful to work with the teachers and administrators at Mill Street Elementary, especially at a time like this," Nicholson said. "It has really been amazing how we have come together to help each other learn new strategies and tools for teaching online, continued to build relationships with students and families, and problem solved when needed. But, that is really just the #MillStreetWay."