Return to Headlines
Upshaw Named New Chief of Middle Schools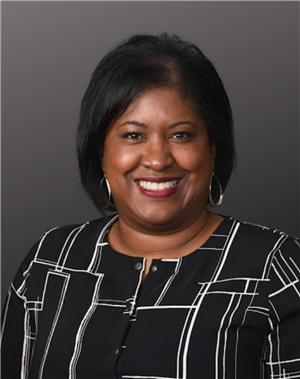 Lewisville ISD (LISD) announced May 17 the appointment of Chantell Upshaw as the district's new Chief of Middle Schools. She takes over for Leigh Ann Lewis, who recently announced her retirement from LISD after 27 years with the district.
"Ms. Upshaw has a wealth of experience and knowledge in campus leadership and will bring an important perspective to this role," LISD Superintendent of Schools Dr. Lori Rapp said. "She has been integral in cultivating community relationships on her campuses and I look forward to watching our middle schools thrive under her leadership."
Upshaw most recently served as principal at Marcus High School 9th Grade Campus (MHS9), a position she has held since 2014, where she implemented the AVID program, systems for digital learning through Common Sense Media resources, and hosted several community events such as the Marcus High School (MHS) TEDX and the LISD Historically Black College and University (HBCU) college fair. She also coordinated student and family Internet Safety and Just Say Yes motivational programs, in collaboration with middle school feeder PTA's.
Upshaw began her public education career in 1993 as a teacher in Dallas ISD. In 1998 she began teaching in LISD and joined campus administration at MHS as associate principal in 2000. She then moved to Arbor Creek Middle School where she served as principal of the campus until 2010 before moving to the Lewisville Learning Center (LLC) where she served in the same role until opening the MHS Ninth Grade Campus in 2014.
"I am thrilled to have the opportunity to serve our LISD community in this role," Upshaw said. "I have spent most of my career in LISD, so to be able to partner with our incredible leadership team to help guide our students, families, and staff through exceptional learning experiences is truly a great honor."
In this role, Upshaw will be responsible for providing support and leadership to 15 middle school principals across the district, as well as DAEP, LLC, Virtual Learning Academy, and secondary summer school where she will advise on school operations and leadership. She will join the district's other Chiefs of Schools - Rhonda Godbey, Andy Plunkett and Lori Litchfield.
A graduate of Prairie View A&M University, Upshaw received her Bachelor of Arts in English with a Spanish minor. She received a master's degree in Educational Administration from the University of North Texas and holds her superintendent certification from the University of Texas at Tyler.
Upshaw and her husband, Ike, reside in the district and are proud parents of two children who have both attended LISD schools.