Return to Headlines
LISD Announces Dr. Martin Luther King, Jr. Essay, Art and Photography Contest Finalists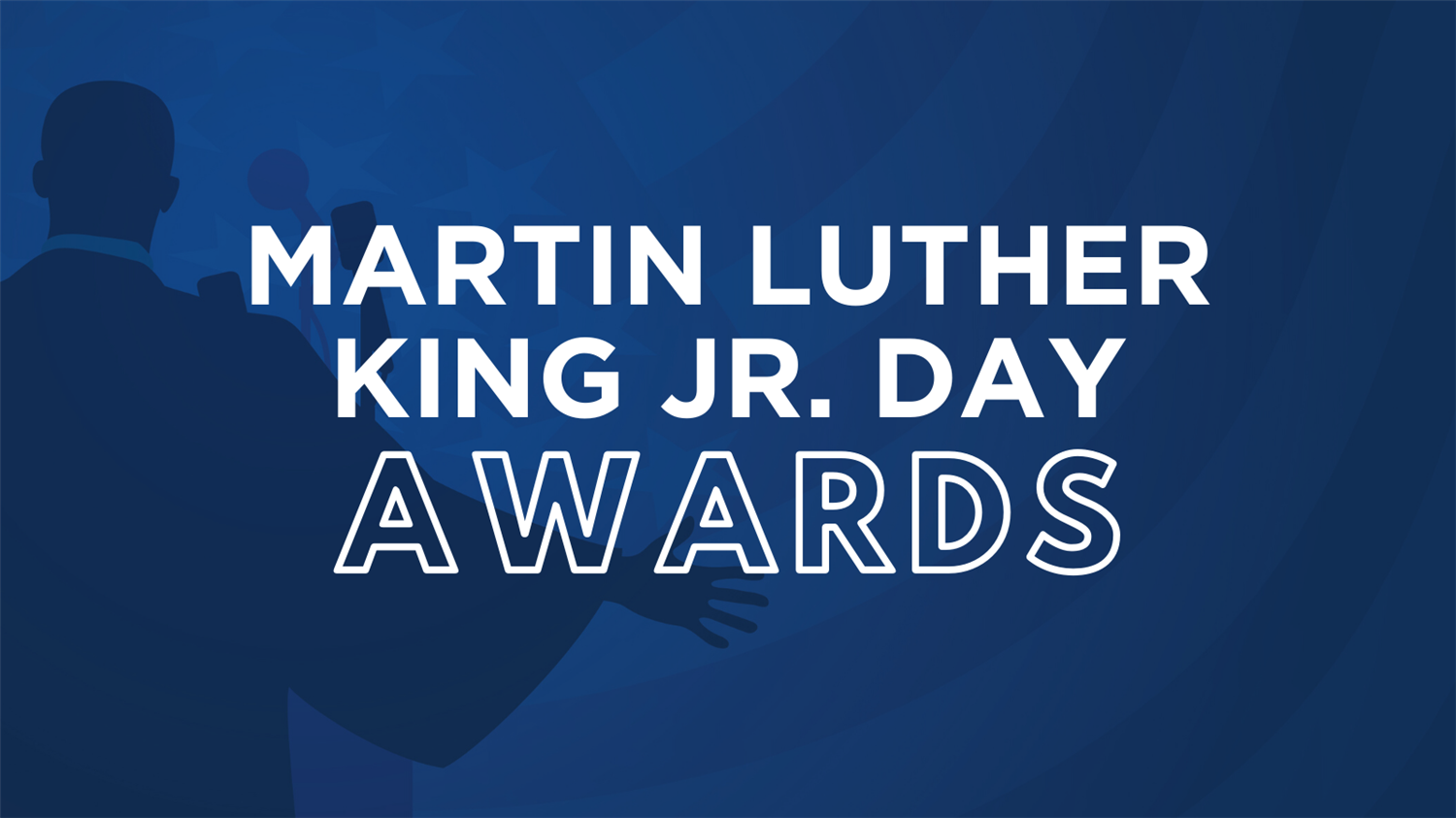 In a new format this year, the Dr. Martin Luther King, Jr. Essay, Art and Photography Contest top 5 finalists (listed below) have been announced and the winning Lewisville ISD students will be named during the 28th annual MLK Celebration streamed live on Monday, Jan. 18 at 6 p.m. here.
The theme for this year's virtual event is "A Beloved Community: Justice for All." There will be appearances by Student Council members from all five LISD high schools – Flower Mound, Hebron, Lewisville, Marcus and The Colony – and a performance by the LHS Dance Team. Author Tracy Brown will be the keynote speaker.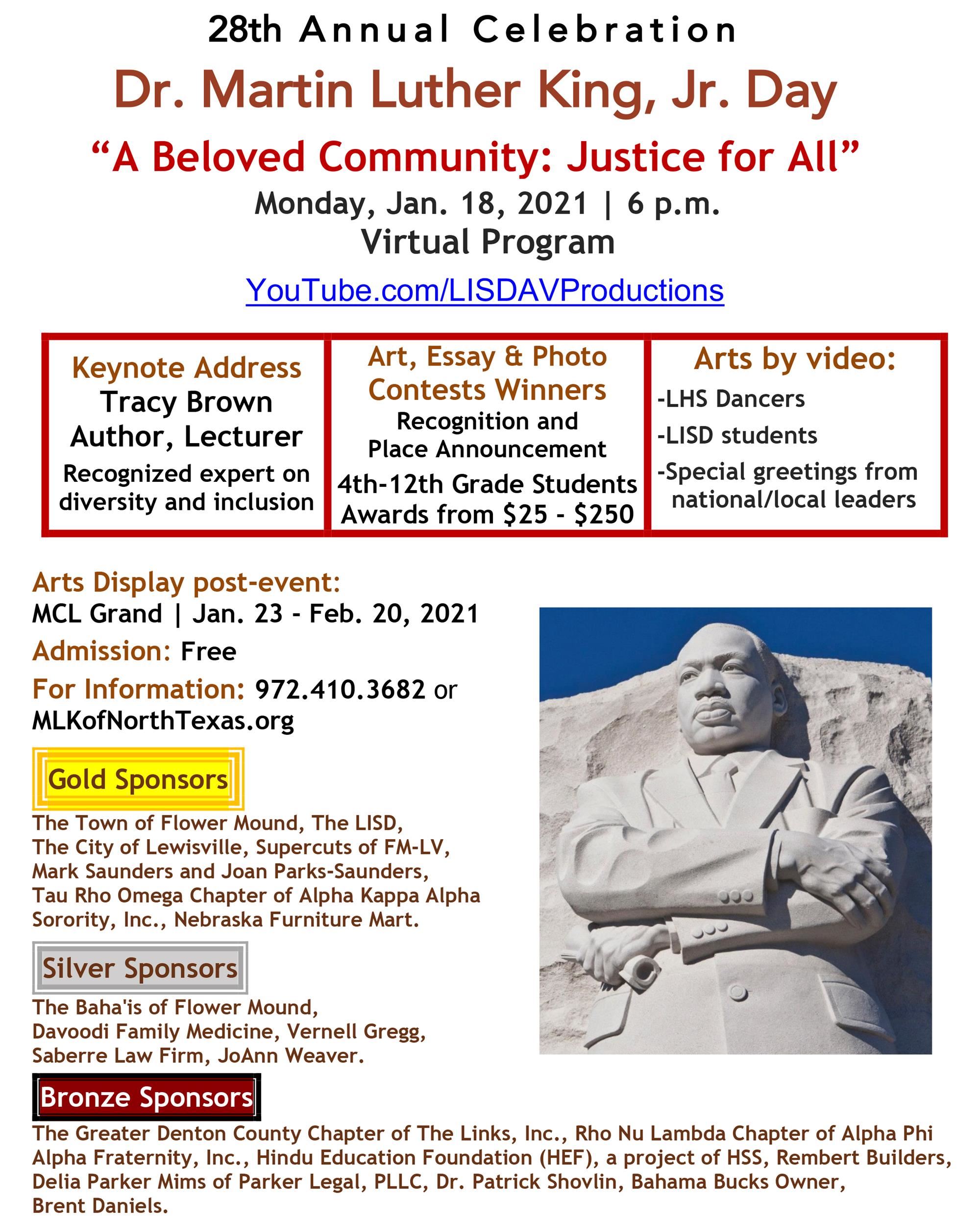 Following the event, winning art and photography will be displayed at Medical City Lewisville Grand Theater in Lewisville (100 North Charles Street) until Feb. 20. Gallery hours are 10 a.m.-5 p.m. Tuesday through Saturday. Due to COVID-19 restrictions, a viewing appointment must but in advance by clicking here.
For more information about the event and contests, visit MLKofNorthTexas.org. To read an article in Star Local Media, click here.

2020 Dr. Martin Luther King, Jr. Essay, Art and Photography Contest Finalists

Essay
(in alphabetical order by last name in each category)

4th Grade
Zyaan Abdul Aziz, Castle Hills Elementary, Ms. Robertson
Caleb Etufugh, Castle Hills Elementary, Mr. Henderson
Taylor Morgan, Donald Elementary, Ms. Radke
Zoya Tapia, Hebron Valley Elementary, Ms. Houst
Franko Valente Venegasv, Parkway Elementary, Mr. Guajardo
5th Grade
Kinsey Bristow, Prairie Trail Elementary, Mr. Clayton/Ms. Thomas
Devarghya Chakroborty, Liberty Elementary, Ms. Martich
Rishita Medhi, Liberty Elementary, Ms. Martich
Elijah Min, Prairie Trail Elementary, Ms. Thomas
Deetya Shah, Bluebonnet Elementary, Ms. Hughes
6th Grade
Maryam Aziz, Killian Middle School, Ms. Rodriguez
Ava Biggins, Lamar Middle School, Ms. Reynolds
Maya McKown, Briarhill Middle School, Ms. Mowl
Jack Niederkorn, Lamar Middle School, Ms. Reynolds
Thiyanah Nimallan, McKamy Middle School, Ms. McLoud
Astrid Samrud, Arbor Creek Middle School, Ms. Farley
7th Grade
Sameeha Alidina, DeLay Middle School, Ms. Votrain
Sydney Ferrando, Downing Middle School, Ms. Phan
Izma Fias, McKamy Middle School, Ms. Gentry
Brynn Harper, Briarhill Middle School, Ms. Raunam
Jake Torgesen, Downing Middle School, Ms. Phan
8th Grade
Noorain Aziz, Killian Middle School, Ms. Rodriguez
Cameron Bowman, McKamy Middle School, Ms. Miller
Giulia Ferrer, McKamy Middle School, Ms. Miller
Zoey Pierce, McKamy Middle School, Ms. Miller
Elliott Slaughter, Briarhill Middle School, Ms. McKnight
9th Grade
Christian Burlacu, FMHS 9 Ms. Harper
Kimble Gould, LHS Harmon, Ms. Hoving
Nithika Koka, FMHS 9, Ms. Harper
Aditi Singh, FMHS 9, Mrs. Romero
David Trujillo, FMHS 9, Ms. Harper
10th Grade
Dante Bush, Hebron High School, Ms. Bertrand
Michelle Doan, Hebron High School, Ms. Bertrand
Lahari Guduru, Flower Mound High School, Ms. Hitt
Brayden Jones, Hebron High School, Ms. Bertrand
Claire Kiesling, Hebron High School, Ms. Bertrand
11th Grade
Abigail Black, Flower Mound High School, Ms. McMichael
Hyun-a Song, Flower Mound High School, Ms. McMichael
Sowmya Sridhar, Flower Mound High School, Ms. McMichael
Ngun Tin Thlem, Lewisville High School, Mr. Gonzalez
Ian Wright, Hebron High School, Ms. Meldrum
12th Grade
Reese Taylor Grau, Marcus High School, Ms. Gandy
Rishabh Medhi, Flower Mound High School, Mr. Kenny
Dylan Orrison, Flower Mound High School, Mr. Kenny
Shrinidhi Thiruvengadam, Hebron High School, Ms. Carr
Natalie Yook, Flower Mound High School, Ms. Crowder

Art
(in alphabetical order by last name in each category)
4th Grade
Sophia Barrera, Vickery Elementary, Mr. Erwin
Esteban Carrizales, Vickery Elementary, Ms. Alexander
Eshaanvi Govada, Morningside Elementary, Ms. Hodnett
Avinley Hunt, Vickery Elementary, Ms. Alexander
Charles Abel Marts, Prairie Trail Elementary, Ms. Schnoor/Mr. Clayton
5th Grade
Ellie Kim, Wellington Elementary, Ms. Amador
Libbey Lewis, Homestead Elementary, Ms. Thacker
Sadie Sanders, Vickery Elementary, Ms. Wright
Yashil Shukla, Liberty Elementary, Ms. Martich
Maanya Varma, Old Settlers Elementary, Ms. Wilhelm
6th Grade
Tei Jeon, Durham Middle School, Ms. Winters
Naya Ojeda, Shadow Ridge Middle School, Ms. Mashet
Marsela Polotska, Shadow Ridge Middle School, Ms. Mosher
Trisha Sengupta, Shadow Ridge Middle School, Ms. Merrick
Eva Weckback, McKamy Middle School, Ms. Weaver
7th Grade
Amirtha Saravana Kumar, Durham Middle School, Mr. Ball
Anggie Linares, DeLay Middle School, Ms. Shaw
Elia Preciado, Durham Middle School, Ms. Winters
Cornell Reditt, Durham Middle School, Ms. Winters
Emma Tram, Creek Valley Middle School, Ms. Brazzell
8th Grade
Jasmine Carter, Arbor Creek Middle School, Ms. Wasiak- Burns
Tennyson McDonie, Briarhill Middle School, Ms. Amick
Aanya Nuna, McKamy Middle School, Ms. Weever
Rhianna Patel, McKamy Middle School, Ms. Weever
Vijaya Smriti Ravipati, McKamy Middle School, Ms. Weever
9th Grade
Jennifer Banh, MHS 9, Ms. Caldarera
Jalise Dearmas, LHS Harmon, Mr. Fletcher
Michael Geary, MHS 9, Ms. Caldarera
Vidhi Jadeja, FMHS 9, Ms. Harper
Anton Mallonga, FMHS 9, Kucuk
10th Grade
Natasha Cardozo, Flower Mound High School, Ms. McLoud
Vanesa Dominquez, Gaspar, LHS Harmon, Mr. Fletcher
Riya Jadeja, Flower Mound High School, Ms. Harper
Saraswathi Menon, Flower Mound High School, Ms. Harper
Alexa Moldenhauer, Hebron High School, Ms. Mennsfield
11th Grade
Mackenzie Allen, Flower Mound High School, Ms. Harper
Sofia Banuelos, Flower Mound High School, Ms. Kreul
Hun-Jee Kim, LHS Harmon, Mr. Fletcher
Scout Lee, Marcus High School, Ms. Bellevue
Andi Pearson, Flower Mound High School, Ms. Harper
Saloni Mistry, Marcus High School, Ms. Bellevue
12th Grade
Aubrey Curtis, Marcus High School, Ms. Toews
Payton Evert, Marcus High School, Ms. Bellevue
Zoey Kaul, Marcus High School, Ms. Bellevue
Mikaela Sedillo, Flower Mound High School, Ms. Harper
Christina Tang, Marcus High School, Ms. Lawrence

Photography
(in alphabetical order by last name in each category)
Elementary School
Zayaan A. Aziz, 4th Grade, Castle Hills Elementary, Ms. Robertson
Sean Canady, 5th Grade, Stewart's Creek Elementary, Ms. Lentz
Tanvi Reddy Padala, 5th Grade, Liberty Elementary School, Ms. Martich
Clara Suzanne Patrizi, 5th Grade, Prairie Trail Elementary, Ms. Hernandez
Darren Zhao, 4th Grade, Liberty Elementary School, Ms. Strong
Middle School
Alexandra Ashman, 8th Grade, Briarhill Middle School, Ms. Amick
Owen Hallinam, 7th Grade, Downing Middle School, Ms. Mick
Piper Johnson, 6th Grade, Briarhill Middle School, Ms. Raunam
Dionne Martinez, Johnson, 6th Grade, Briarhill Middle School, Ms. Thomas
Aarna Shukla, 8th Grade, McKamy Middle School, Ms. Weever
Gentry Tuininga, 6th Grade, Shadow Ridge Middle School, Ms. Merrick
High School
Oliva Hendrick, 12th Grade, Marcus High School, Ms. Bellevue
Unice Kim, 9th Grade, LHS Harmon, Ms. Farrelly
Karissa Kitzmiller, 10th Grade, Marcus High School, Ms. Caldarera
Makayla Milillo, 9th Grade, MHS 9, Ms. Toews
Avery Southwell, 9th Grade, MHS 9, Ms. Calderera

*Chairman's Prize*
TBA